Obama Administration Caught Lying About Oil Spill Data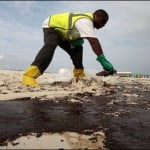 This chaps the Czar's buttocks.
Sorry, but it does.
For eight years, the Czar (and millions of others) endured continual critical comments about President George Bush, and how he ignored science when it disagreed with his policies, and how he manipulated data anytime he needed numbers to endorse his policy. Goodness, the science blogs all maintained, how President Obama—already donning his lab coat and goggles—would put an end to it. For He was truly A Man of Science and Reason.
Curiously, this Bush-bad Obama-good dialectic still goes on in many science blogs today. The otherwise magnificent Bad Astronomy website suffers from this fallacy even as recently as September.
This despite ironic evidence compiled here and especially here that Obama is even more of a manipulative putz than George Bush ever was. Obama is, of course, a progressive liberal: the whole concept is based on sociological junk soft science. These folks crave any study that supports, or seems to support, one of their lunatic viewpoints.
So now we have additional proof. A White House commission provided irrefutable evidence that the White House itself, through the OMB, actively covered up information compiled by NOAA that the BP oil spill disaster could be worse than the President was saying. And that in later discussion to the news media, White House energy advisor Carol Browner, doing a heckuva job, knowingly distorted NOAA findings to suggest that the oil spill wasn't all that bad. And continued to stress the nonsense statements that things were under control when a wide range of experts in the field and in the media were concluding otherwise.
Did Obama specifically lie about, hide, or cover up scientific data? No, but neither did Bush. The offenses which occurred during his presidency were committed by idiots like Deutsch at NASA, or within the USGS (who famously avoided discussions of the age of geologic formations since they contradicted fundamentalist Christian assumptions about the age of the world). Result of these lies? Not much: just an embarrassing lack of intellect that made all Americans look stupid. Corrections? Done. Even Bush took care of Deutsch. Dollar cost? Zero. Lives ruined? None.
But hold on: let us consider the BP oil spill. Result of these lies? Inability to contain the damage. Consequently millions of gallons of oil poisoned the water rather than thousands. Corrections? Still incomplete: the cleanup efforts are continuing due to a shortage of manpower. Dollar cost? Unknown: although British Petroleum wound up in great financial shape. Lives ruined? Thousands of fishermen, resort workers, local businesses, and more. Oh yeah, probably millions of animals were killed. No one is counting them, because they do not vote.
This is not a case of someone close to the President saying or doing something stupid. This is a case of intentional manipulation, fraud, cover up, and neglect that began early in the process and continues still. The President wants an ass to kick? He could start right in the White House.
There are of course four reasons such a scandal could happen, all of which are concurrently possible:
1. "We lied to protect the President. We knew how this was going to be compared to Katrina, and the last thing we wanted was for people to think he was as bad as Bush." Good news, staffers: the Gulf residents do not think this. In fact, they said Bush handled Katrina much better than Obama handled the BP oil spill. They still say it.
2. "We needed to protect British Petroleum. The last thing we wanted anyone to know was how deep the President was in BP's pockets." Well, alas, that tidbit leaked out faster than the oil.
3. "We needed to downplay the amount of oil flooding the Gulf, otherwise the public would want to know why we persisted in refusing those Dutch skimmers that were available to help, and when we did use them, why we insisted the trained Dutch crew members could not set foot in the Gulf, and how we spent weeks training union workers to learn rudimentary operation." Indeed, if you downplay the amount of oil spreading into the Gulf, people will not wonder why the President put union interests first, long before the interests of the Gulf residents.
4. "We intended to delay action in order to make the oil spill worse than anyone was hearing in order to promote non-oil-based green technologies. The worst the spill got, the more we could push Cap and Trade. Of course, when we realized folks were not clamoring for this, it was too late to get the oil genie back into its bottle."
You could add basic incompetence to the list, like the science blogs still do to George Bush, but sadly, that lets too many people off the hook. The Czar does not hold his breath awaiting a concession from the big science blogs on this issue. But, as you know, if one of them does admit Obama is a scientific fraud, the Czar will be happy to salute them right here.

Божію Поспѣшествующею Милостію Мы, Дима Грозный Императоръ и Самодержецъ Всероссiйскiй, цѣсарь Московскiй. The Czar was born in the steppes of Russia in 1267, and was cheated out of total control of all Russia upon the death of Boris Mikhailovich, who replaced Alexander Yaroslav Nevsky in 1263. However, in 1283, our Czar was passed over due to a clerical error and the rule of all Russia went to his second cousin Daniil (Даниил Александрович), whom Czar still resents. As a half-hearted apology, the Czar was awarded control over Muscovy, inconveniently located 5,000 miles away just outside Chicago. He now spends his time seething about this and writing about other stuff that bothers him.