Morons and Their Dumb Ideas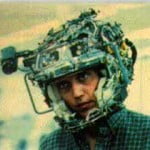 The Czar has found Sleestak's cell phone. It was in his sleeping pylon.
The good news is that this disproves that a character in a Charlie Chaplin film found the phone and is talking on cell phone in 1928.
First, there was no cellular connectivity in 1928 for the call to establish a route.
Second, if the guy was a time traveler, he must be a time traveler from 1995; because a modern day (and definitely future) cell-phone user would be on a hands-free Bluetooth connection as he walked, solely for the purpose of walking down a street appearing to talk to himself like a freaking half-wit.
Third, if the cell phone did make it all the way back to 1928, 'Puter still wouldn't use one.
Fourth, the device in question is apparently a carbon tube amplifer used as a hearing aid back in the day. The person in the video is using it correctly.
The bad news is that Sleestak did lose the phone, so the beating he received from GorT was not only justified, but deliciously brutal. The Czar rarely giggles to the point of wetting his bearskin.

Божію Поспѣшествующею Милостію Мы, Дима Грозный Императоръ и Самодержецъ Всероссiйскiй, цѣсарь Московскiй. The Czar was born in the steppes of Russia in 1267, and was cheated out of total control of all Russia upon the death of Boris Mikhailovich, who replaced Alexander Yaroslav Nevsky in 1263. However, in 1283, our Czar was passed over due to a clerical error and the rule of all Russia went to his second cousin Daniil (Даниил Александрович), whom Czar still resents. As a half-hearted apology, the Czar was awarded control over Muscovy, inconveniently located 5,000 miles away just outside Chicago. He now spends his time seething about this and writing about other stuff that bothers him.