Mailbag: More Historical Editing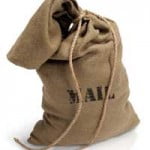 Uncle Jay writes in to say…
Oh Mighty One—

Once again, I cringe and scrape before thee to offer a tidbit for your perusal:

President [Obama's] restructuring of our Essential Documents.

For instance, see Whitehouse.gov's section on the US Constitution and the Bill of Rights…

A particular instance that pisses me off, although the entire 'site is rife with the same horseshit:

"The Second Amendment gives citizens the right to bear arms. "

For a guy who is supposed the be The Smartest President Evar, and who spent 12 years as professor teaching Constitutional Law at the University of Chicago Law School, [Obama] has absolutely no understanding of the second amendment.

The Bill of Rights does not GIVE the people ANYTHING, and I doubt you could find a valid Supreme Court decision that backs up that claim.

The Bill of Rights exists as a list of limitations on the Federal Government. A list of things it cannot do. It does not grant anything to the people.

It should read:

"The Second Amendment provides that the right of the people to keep and bear arms shall not be infringed."

The current wording implies, and in fact states, that the Constitution GIVES rights, when the Founders clearly held that we are "endowed by our Creator" with our rights and that the purpose of government is to secure those Creator-endowed rights.

The Constitution enshrines and protects our rights, but does not "give" rights. That is a dangerous misinterpretation, because the uninformed citizen might fall prey to the belief that government could also "take away" rights. As we've seen recently, and as Your Excellency has pointed out, [Obama] is replacing the concept of our Creator with the Government as the source of our rights.

As a "Constitutional Scholar" [Obama] ought to be ashamed of this garbage on Whitehouse.Gov.

As I look at the rest of [Obama's] version of the Bill of Rights there are some pretty hideous "interpretations" of the 4th and 5th amendments too.

Будьте здоровы и процветающей

You lowly minion-
One thinks that might read your lowly minion, but who can tell.
Anyway, здравствуйте back at ya. Thank you for writing in. The Czar hears that the President has done it a fourth time, yesterday in Seattle…editing the Declaration of Independence again. Sigh. He must really hate that document.
Anyway, Uncle Jay is right. The Bill of Rights gives no powers to the people at all. Instead, it protects rights that exist regardless of the Constitution. Rights are not given, but are retained. Of course, Uncle Jay should remember that our Constitutional scholar president did not write that webpage; he had well-paid flunkies do it who inevitably put into it what they know, and then it is approved by another assistant. Bet ya that neither the flunkies or the assistant find anything odd about the wording. One of the problems of a lot of editors is that what comes out is usually vastly different from what went in. Who knows who is responsible for that error! Editors are such a pain that we do not use them here.
However, both Uncle Jay and readers may wonder why the Czar has censored some of this letter. The reason is because the Czar earnestly believes that mocking a person's name solely to diminish that person is too much out of the leftist playbook. Yes, there is a long tradition in doing it, and it is certainly a bona fide element of satire, but the Czar does not allow it merely for the sake of doing it. There is no particular reason to do it when the actions of the man in question stand for themselves.


Божію Поспѣшествующею Милостію Мы, Дима Грозный Императоръ и Самодержецъ Всероссiйскiй, цѣсарь Московскiй. The Czar was born in the steppes of Russia in 1267, and was cheated out of total control of all Russia upon the death of Boris Mikhailovich, who replaced Alexander Yaroslav Nevsky in 1263. However, in 1283, our Czar was passed over due to a clerical error and the rule of all Russia went to his second cousin Daniil (Даниил Александрович), whom Czar still resents. As a half-hearted apology, the Czar was awarded control over Muscovy, inconveniently located 5,000 miles away just outside Chicago. He now spends his time seething about this and writing about other stuff that bothers him.