Courting Outside Influence….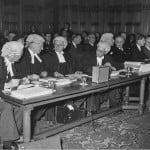 What would you say if your Mandarin told you that the Federal government was going to sue a State government for actually having the audacity to enforce existing immigration laws? What if your Mandarin was to go one step further and tell you that a Federal Circuit Court of Appeals was going to let 11 countries – whose citizens were violating Federal immigration laws – file a friend of the court brief to assist the Federal government with its lawsuit?
Well your Mandarin would say pretty much what Governor Jan Brewer of Arizona is saying in this article in response to what she and her state are facing. The 9th Circuit Court of Appeals has issued a ruling that lets 11 Latin American countries file a friend of the court brief on behalf of the Federal Government in its lawsuit against the Arizona Immigration law.
But this should come as no surprise to those of us that have watched for years now as members of the progressive movement at all levels of the government, and some members of the Supreme Court have cried out that the U.S. should become more enlightened and follow International law at the expense of the U.S. Constitution.
For these progressives, and members of the current administration, the Constitution is an outdated construct that does not account for the need to dispense "Social Justice" at the expense of the rule of law. This friend of the court brief goes beyond a foreign country's right to attempt to exert influence over the political decisions of the U.S. Countries, including the U.S. do this everyday through treaties, trade agreements, and military actions. But this goes beyond that by allowing foreign countries to exercise influence over the prosecution of U.S. laws within its borders.
This should come as a wake-up call to all of those who cherish the Constitution and the rule of law that has governed this country from its inception. With this interference, what protections does one have as a U.S. citizen from being prosecuted for an action that is legal here but not legal in another country?

The Mandarin, whose real name is 吏恆, joined the order in 1309, and introduced the Gormogons into England during the 18th Century.
The Mandarin enjoys spending time with his pet manticore, Βάρἰκος, or Barry (who can be found in the Bestiary). When not in the Castle…well, frankly, nobody is quite sure where he goes.
The Mandarin popularized the fine art of "gut booting," by which he delivers a powerful kick to the stomach of anyone that annoys him. Although nearly universal today, the act of gut booting or threatening someone or something with a gut boot is solely due to him.