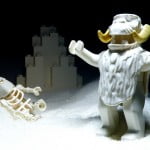 Pictured: Inside Mandy's Dreams
Hey, Dr. J., you'd better cease and desist on that orbital ultrasonic death ray post-haste. I don't give a crap what the hell Mandy tells you about hunting Yeti, but the entire species of homo vertex is under a strict no-kill 詔書, under the Volgi's chop. You can kill one in self-defense, so Mandy's always saying that Dgapo scares him when he comes down for breakfast before his morning opium and sees a nine-foot, horned, tusked biped at the table—Dgapo is just trying to eat his butter tea and yak tartar—and therefore it's "self-defense" for him to blast other yeti from space to keep the nightmares away. Please.
N.B. Even aiding or abetting yeti killers is a sentence of death, delivered by a group of Tcho-Tchos who arrive while you're sleeping with a variety of dull, rusty implements.
'Scuse me while I go have a little talk with il Mandarino.
Update: These guys have already been taken care of. They're in a very large number mason jars.
Photo credit: "Smokebelch" operating Mandy's Dream-O-Vision® (Patents Pending).

Don't ask impertinent questions like that jackass Adept Lu.