Public-sector unions, spending your money to get more of your money.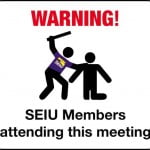 Look for the union label on your state and local tax increase, writes Stephen Malanga:
The sight of rich people pleading to be taxed more has attracted attention to the November ballot initiative. But otherwise, support for the ballot measure, which would slap a tax of from 5 percent to 9 percent on the income of those earning more than $200,000 a year ($400,000 for those filing jointly), is entirely predictable. The chief force behind it is the state's unions, who've contributed some $2 million to the campaign for the initiative, led by the state employees' union, the teachers' union and the Service Employees International Union, the largest union in the state with 100,000 workers, many of them working in the heavily-regulated area of health care.

This is the nature of tax hike campaigns these days. When the union movement in America crossed a crucial threshold recently, as membership in public sector unions surpassed private sector union enrollment for the first time, the event signified deeper changes in labor in America. The new labor movement, dominated by government workers, is an increasingly white-collar interest group, culturally progressive and fiscally liberal, and it has become the chief organizer of efforts to raise taxes in America, especially at the state and local level, where these government worker unions wield their greatest influence. Their efforts have helped boost local taxes this year more than any year since 1979.

Don't ask impertinent questions like that jackass Adept Lu.