News From That Toddlin' Town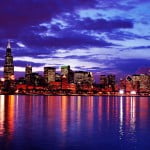 You know, Mandarin lives outside Chicago, too. But keep writing your Czar with your ideas about Chicago's mayoral situation.
Okay, you want the Czar's thoughts on Mayor Richard M. Daley's lame-duckacy, eh? Here it is: Chicago, for all its faults (and all his faults), was well served by the guy. Sure, he was a Democrat with a pathologically illegal attitude about guns. Yeah, lots of people very close to him were involved with the Chicago Machine.
But compared to the media stunters, morons, criminals, and psychopaths Chicago previously elected, he was an all right guy. Under his stewardship, the Unions lost influence (he frequently sparred with them). The Chicago skyline somehow got even better with the dazzling array of silhouettes he added. Boring, over-hyped events like the Taste of Chicago and Bluesfest became international draws. Best of all, the guy practically wiped out the ghettos. In fact, as the Czar writes this, the infamous Cabrini-Greene projects are being demolished. Its last few residents will be out in a matter of months, sent to better housing in nicer neighborhoods. Areas you would be caught dead in are now trendy million-per-unit condo parks studded with coffee shops and restaurants. Every square inch of possible property got flowers or trees planted on it. The City, for all of its graft, greed, and corruption, just felt better to be in. The City got a lot more beautiful.
Watch The Blues Brothers or Running Scared to see what Chicago looked like prior to his arrival: dingy, dirty, run-down, and boring. Take a look at the place today: vibrant, green, and colorful.
Dr. J. sent in a cartoon of Hamid Karzai wistfully reading a news article on Chicago's presently wide-open mayoral race, wondering how his style of corruption would play in the Windy City. The Czar suspects better than Obama's. As he has concluded before, the conservative media likes to play on the idea that President Obama brought "Chicago-style" politics to Washington, DC. Except that Obama and his goon squad spent so little time here they never learned the tricks. Face it, had Obama mastered Daley's style of politics, we would be unaware that Obamacare, Cap and Trade, eight stimulus packages, and a total ban on the military would be have been passed months ago. And overall, somehow, it would work. The President is a pretender; Daley was a master. Obama? Chicago-style politics? Pffft. Not even close.
So what happens next? Does Rahm Emmanuel become mayor? No doubt the rest of the nation will think so, but the fact is that Rahm is largely unpopular in Chicago. His national attention will actually help boost his over-confidence; he stands little chance of being elected.
JTS writes in:
My favorite candidate for Mayor right now is Sheriff Dart. Second favorite is probably Terry Peterson, although I could live with Pastor Meeks as a Mayor given that he recently got behind vouchers.

Alderman Scott Waguespack is a nice guy but I don't think he's Mayor material.
Tom Dart is probably the best one to bet on: he has wide popularity, drew media attention (and our attention) when he refused to obey court orders to evict tenants without sufficient notice. This was either good or bad, depending on your view. But he is widely popular in Chicago, has excellent name recognition here, and would certainly clean house. He might run afoul of the Machine, though…although it remains to be seen whether the Machine can operate at the same speed without Daley at the helm. Like a flywheel, though, it will probably spin for quite a while, but will inevitably slow to a crawl.
The Czar knoweth neither Terry Peterson nor Scott Waguespack, and will eventually investigate. As for Pastor Meeks, he has had some bad, bad run ins (runs in?) with the media, and will not be able to sustain city-wide support; one thinks he is another "stunter" like former Mayor Jane Byrne…although to be honest, the Czar met Her Honor in a City Hall elevator back in 1991 or so, and found her to be warm, funny, and appreciative that we remembered her on site. She was quite polite and self-deprecating.

Божію Поспѣшествующею Милостію Мы, Дима Грозный Императоръ и Самодержецъ Всероссiйскiй, цѣсарь Московскiй. The Czar was born in the steppes of Russia in 1267, and was cheated out of total control of all Russia upon the death of Boris Mikhailovich, who replaced Alexander Yaroslav Nevsky in 1263. However, in 1283, our Czar was passed over due to a clerical error and the rule of all Russia went to his second cousin Daniil (Даниил Александрович), whom Czar still resents. As a half-hearted apology, the Czar was awarded control over Muscovy, inconveniently located 5,000 miles away just outside Chicago. He now spends his time seething about this and writing about other stuff that bothers him.