Legalizing Drugs? Why the Liberals Will Betray Liberals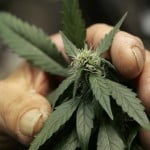 The Czar thought of something this morning, but did not spend enough time on this. In fact, just the amount of time necessary to brush one's teeth by astonishing coincidence. But here we go.
Desire for the legalization of drugs falls basically among two groups of people:
• Libertarians, who are not necessarily in favor of millions of people on drugs, but acknowledge that their principles about free choice and non-governmental involvement in people's personal lives basically mandates them to accept it. In other words, if they prefer not to be hypocrites, they pretty much have to accept that a libertarian life means putting up with other people's stupid choices if they don't hurt anyone else.
•Liberals, because basically a number of them want to get high. The Czar understands that they just don't want to go to jail doing it. Not that jail is bad—you get to meet all sorts of culturally diverse folks in prison, get tats, and put yourself in touch with your feelings. It's that whole born-again-Christian tendency that freaks them out.
Regular readers know that the Gormogons themselves are not in agreement on the legalization of drugs. And indeed, the Czar's opinion on the matter does not enter into this thought.
And here is that thought: liberals should realize that they will be betrayed on the legalization of drugs.
Liberals, you see, are composed of many different factions. In fact, as we know, there is no such thing of "liberal." Instead, there is a loose alliance of many competing interests united by a common enemy: the conservative.
For decades, this got nowhere. Then, the progressive liberals came along about 100 years ago. They organized, wrote articles, infested the media, academia, and popular culture. They solidified the liberal base and redefined it. They became a movement. They became electable.
Although progressives exist on both sides (there are indeed progressive conservatives), they really found a welcome home among liberals. Why? It is a symbiotic host/parasite-type of relationship. The progressive parasite provides the liberal host what it needs: organization, credibility, power, and money. In turn, the liberal host gives the progressive parasite what it needs: a bunch of gullible, lazy unwashed masses to control and direct. This is much harder to find on the Right—but the Left meets the greater criteria the profressional progressive craves: people who need to be reformed (whether or not they want to be).
One might conclude that the progressive is the brain of the liberals, but that is not quite correct. More like the progressives are the generals to a loose rabble of cannon fodder. And these are the very folks who will screw them on the drug legalization issue.
Here is the premise: the progressives wind up being in charge by the fact that they are organizers and mobilizers. It is the progressives's job to look after their wards and take care of them, on all things: education, finances, food, housing, employment, services, representation, education, and more. Especially personal healthcare matters.
The progressives once outlawed alcohol. They have nearly outlawed smoking. They outlaw transfats in some areas already. Their eventual goal is to reform diet: no smoking, drinking, unhealthy foods, and many advocate elimination of meat from diets. The progressive Ubermensch is a lean, fit, non-smoking, non-drinking jogging type in a vegan lifestyle.
You really think these folks want to see their carefully herded flocks steamboating some viper, blowin' a bammy, noshing some nubs, or snorting some booger sugar? Why hasn't President Obama delivered on his never-spoken-but-widely-assumed promise of legalizing whatever drugs folks want? Heck, the President is against even the limited use of pot. And recently reaffirmed this, to the dismay of giggle weeders everywhere.
In fact, drug users thought Carter would legalize drugs—although candidate Carter suggested he would, President Carter immediately recanted. And Clinton would immediately legalize drugs, being a user himself—he assured voters he never had any intention of doing so. Candidate Obama certainly would decriminalize marijuana for He is Enlightened. President Obama consistently refuses to entertain the notion.
No, these things would never happen because the liberal legislators and executives are part of the progressive movement: and they will ensure it never happens. No matter how often they confess to experimentation (or outright use) themselves, no matter how interested in legalization they appear as candidates, and no matter how much conservatives speak out against drugs—the progressives are never going to allow it. They will betray the liberals on this issue as they have on so many others.
And what does it matter? The progressive is not convinced the average drug enthusiast votes anyway. But while there are a few liberal politicians calling for legalization, they aren't progressives—and progressives have the greater numbers and unified position. The outliers that do exist here and there are unimportant and can be ignored.
So what a rich irony. The drug users do vote, and continue to vote for the liberal politicians hoping that the next one will be big one—the big one who openly endorses and legalizes drug use. And they are betrayed every time. Now they know why. Like drug use itself, the enemy lies within.

Божію Поспѣшествующею Милостію Мы, Дима Грозный Императоръ и Самодержецъ Всероссiйскiй, цѣсарь Московскiй. The Czar was born in the steppes of Russia in 1267, and was cheated out of total control of all Russia upon the death of Boris Mikhailovich, who replaced Alexander Yaroslav Nevsky in 1263. However, in 1283, our Czar was passed over due to a clerical error and the rule of all Russia went to his second cousin Daniil (Даниил Александрович), whom Czar still resents. As a half-hearted apology, the Czar was awarded control over Muscovy, inconveniently located 5,000 miles away just outside Chicago. He now spends his time seething about this and writing about other stuff that bothers him.