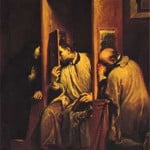 What happens when a Catholic priest reaches out to the Gormogons and offers to do an interview? Well, frankly, this.
What follows is a question from each of us, in the order they were asked, and following each is the answer. Enjoy.
Dear Gormogons and their seven readers. I never said I wanted substantive questions. You lie! I kind of thought you would ask more in quantity, but those were of excellent quality. I hope you liked my perfunctory answers! I made sure not to spend more than seven seconds on each. Here's hoping I bored you all into heaven.
God Bless you merry gentlemen.
From The Dread and Awful Czar: The Catholic Church has given mixed messages on balancing science and faith, with John Paul II embracing scientific theory to its full advantage, and Benedict privately pulling some of that back. What does a Catholic priest think about mixing science and faith at a time when many other Christian groups are embracing the Bible as "literal truth?"


I think that we must be moderate. I think we should embrace science as far as it is relevant. I believe evolution is currently the best explanation for how we went from the Big Bang to things today—it is not, however, anywhere near complete. That's why we need Philosophy (and Theology). If we go to either extreme (Bible as a textbook or science is God), we would lose important aspects of our faith—namely the Bible as a source of Inspiration or the existence of the Supernatural (based on which extreme one goes to).

I didn't know that Pope Benedict has been pulling things back. Huh. I would say our moderate approach is best—we are the most rational and logical right now between the fundamentalists on both sides (Christians vs Atheists), and that's a good thing.

From the 44656c6963696f7573 GorTechie: Americans are an incredibly generous society, having donated approximately $308 billion to charities in 2008 alone. What are your thoughts on what could be construed as government-mandated charitable giving versus private, individual charitable giving directly to charitable organizations? Is one endangering the other?

Honestly, I see that as a tax. That's not charity when it's mandated. That may not be what you're asking about.

I read your link. I don't know if the government is endangering charities. I would say that it isn't. In my area at least (small city), the government can't do much for people, and it's terrible at helping people outside of business hours. Also, there are a lot more things to be done to be helped (be assessed, fill out paperwork, etc), which a lot of very needy people can't/won't do. So, they come to us (the Church and others). I think there are a lot of niches that charities fill that the government isn't interested. And, the charities can go where the government can't/won't—like being some of the first into Haiti recently.

From The Notorious Volgi: Catholics have long had the reputation as liturgically-focused Christians. Our low-church brethren wield that as a critique, but given the sacramentality of Christianity in the Catholic view, and the particular importance on the Eucharist ("source and summit of the Christian life" according to JP², PP.M., in Lumen Gentium), it's hard to see how the impression at least can be avoided. (Though our enthusiastic Protestant friends are probably right to note that more of us fall into the sin of a sort of slacker Pharisaism, discharging our formal obligations dutifully, and going about our lives without any particular orientation toward Christ.) The Mass—particularly Sunday Mass—will always be the most concentrated, potentially challenging, and potentially rewarding act of prayer in most Catholics' everyday life.

Given the importance of the Mass and the consequent dramatic and obvious damage to the Church done by the liturgical chaos that ensued after Vatican II and which persists, albeit in an exhausted, decadent fashion, to this day, why has liturgical renewal been so long in coming? Is it because of an internal "culture war" within the Church? Is it simply because it's so difficult? What are its prospects in broad terms? In specific terms, whaddya think of the new translation? Any chance it will get the Church on the same songsheet, so to speak? Please take this as an occasion to dilate on any related issues this kinda stuff raises in your mind.

Oooh. Very interesting. Do you mean the latest renewal coming out in Advent 2011 or the renewal since Vatican II? I will try to answer both. The renewal of Vatican II took so long because it was meant to complete Vatican I, which was cut off by the unification of Italy (if I recall correctly). It took a while before things were settled enough to get to it (World Wars, etc). Also, the popular culture (and liturgical culture) were clamoring for it.

The latest renewal (officially of translations in liturgical texts and unofficially of a more conservative/traditional upcoming clergy) had been something that has been known but not addressed until today. They knew the translation into English was poor when it was done, but ICEL was looking for other benefits than strict adherence to the Latin. Also, politics has held the Church back. The actual word choice is easily done—any Latin scholar could have put it together quickly and sent out drafts; however, the Bishops have to bicker and complain about it and try to have it please as many people as possible (or something, I don't know—I try not to be political). It is not difficult translation-wise, but it is so with respect to making people see its importance (some things are just additions and aren't found in the Latin, e.g. "and also with you" or "for all" instead of "for many").

I like the new translation. It's faithful to the Latin and puts us with the rest of the world (mostly). Also, a number of other nations' translations are based on the English. This is from when missionaries would go to foreign lands, learn the language, then put the prayers into that local language. The missionaries wouldn't necessarily know Latin, so they would go from English. This is troublesome, because everyone knows when you make a copy of a copy, it's not as sharp as… well… the original. I hope this gets everyone on the same page. It will be very confusing to people who've gotten use to the current translation, and I foresee a number of parishes where it won't be implemented (out of neglect or laziness or misplaced pastoral 'needs' or what have you). It will be tough to get used to, and it requires a good explanation to the people. Otherwise it's just changing around words for the heck of it, and as you've said, we're a liturgical people. The CCC says the Eucharist is the source and summit, so it's wrong to mess with the words of the Eucharistic prayer for no reason. People must see the reason.

From The Inscrutable Mandarin:

The Mandarin's question is in regards to the Church's official stance on immigration policy. The Mandarin has seen many Catholic priests take a pro-amnesty/open borders approach to the immigration issues that face this country. If that is indeed the Church's official policy, to what end? Is it an effort to increase membership at the parish level? The Mandarin would think that this would actually harm most parishes. It is his personal experience having experienced a change in neighborhood demographics that most Catholics from third-world/socialist based economies don't look to support the parish but rather look to the parish for support. This leads to the eventual collapse of the parish. In addition, where does the Church draw the line at commenting on public policy and affecting change through its members, and outright interference in the enforcement of laws?

Oh, mercy. Immigration. That is a tough one. I really don't think the Church has a solid policy other than treating immigrants like people, as the Church is too broad. I do think a lot of bishops and priests individually have policies and positions, but I don't know about the Church in America. Usually what I hear are social justice things like making sure they're not taken advantage of and getting them into Church (as many are Catholic). I don't think it's about membership because many immigrants from South America don't come to Church, or only the women do, or they only come for their kids' sacraments, or they can't provide proof of baptism, or the only come for services they can get, or other situations. This is a really tough one because we empathize with both sides—because there are Catholics (and others) on both sides and we want what is best for all people.

Many parishes do suffer the collapse of the inner-city church, but most simply rebuild in the 'burbs where the Catholics have moved. This is common and doesn't mean the end of the Church in that area, just a reshuffling.

Regarding where the Church draws her lines at commenting on public policy and affecting change or outright interference in enforcement of the laws, that's an excellent question. I have no idea. Definitely the line exists where we have no business telling people what to do—I would say outside of faith and morals. If it touches faith and morals, we have a voice. If it's nakedly moral or immoral, I see no problem in the Church taking positions and telling people what is right and wrong. The gray area is where things get iffy. All of us are private citizens, too, which makes things more complicated, although in practice we're like the military—sure we have our own political views, but we don't share them when we're 'on duty'. Also, it's clear where the Church can get involved when it directly affects us. It's less clear on things like immigration law. Usually the USCCB stays apolitical and follows a good path.

From his Bed of Sickness, Ghettoputer: Please explain the Roman Catholic doctrine of fraternal correction and its application in today's society. Specifically, please address the duty of practicing Catholics to correct nominal Catholics' misrepresentations on the Church's teachings on issues ranging from homosexuality, abortion, just war, death penalty, transubstantiation, etc.

Also, tips on how to fraternally correct someone without irreparably damaging the relationship would be apppreciated.

Yet another good question. This is something that comes with personal experience. I am a fairly young priest, so I do not have a lot of that experience to bring to bear. I would say that, as a priest, we let a lot slide in order to be pastoral. We try to focus on the big things and not sweat the small stuff. I don't often run into the nominal Catholics that freely exhibit their own ideas as the position of the Church. I do think fraternal correction is necessary, but it must be done with a deft touch. If you're constantly correcting others on small things (how to genuflect, how to pray the rosary, what exactly happen at [x] point in the Church's history, what small part of St. [y] you misrepresented and how you're evil, etc), then people will not listen when you have something meaningful to bring up with them. If, on the other hand, you are willing to let little things slide and are cheerful and friendly, genuinely so, people are more apt to listen when a big thing comes up—like those issues you listed.

Tips? First, be correct. Second, don't be pedantic. Third, be nice about it—some people don't know when they're wrong. Be willing to have them blow you off at first. Be willing to broach it a second time if you're afraid it will actually hurt others' faith or whatnot. Affirm the person. Follow the Bible on correcting others. You may risk the relationship, so be sure it's worth it. Not in the sense of 'they'll forgive me when they're in heaven and I sure am right all the time and persecuted', but 'I really care for [x] person and their faith and the faith of others, enough so to risk that relationship'—like a good friend who tries to help someone stop a destructive activity. It's akin to that.

Oh! When a Catholic public person misreppresents things, it's not gossip to call them out and be sure everyone knows that person is wrong. For example, just about all of Nancy Pelosi's pseudo-theology. She is wrong about 99% of the time, and Catholics call her out on it. Good. She is a public person and she is publicly teaching falsehoods. Most of the time it's not as clear as this.

I'm sure I've answered badly and incompletely. Please feel free to have me clarify. I just did a marathon session of answering questions a couple of weeks ago, so I apologize if I've done poorly here. I'm used to being concise (read: hates to write essays as answers), so I may have been incomplete instead.

Божію Поспѣшествующею Милостію Мы, Дима Грозный Императоръ и Самодержецъ Всероссiйскiй, цѣсарь Московскiй. The Czar was born in the steppes of Russia in 1267, and was cheated out of total control of all Russia upon the death of Boris Mikhailovich, who replaced Alexander Yaroslav Nevsky in 1263. However, in 1283, our Czar was passed over due to a clerical error and the rule of all Russia went to his second cousin Daniil (Даниил Александрович), whom Czar still resents. As a half-hearted apology, the Czar was awarded control over Muscovy, inconveniently located 5,000 miles away just outside Chicago. He now spends his time seething about this and writing about other stuff that bothers him.