If we didn't have 700 F-22s, we'd really be in troub—wait, what?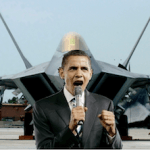 Because this retiring Air Force general's presentation to the Air Force Association makes it clear that our this-generation aircraft are increasingly vulnerable to both Russian and Chinese SAMs and fighters, and our heretofore unchallengeable air superiority is becoming, well, challengeable, and he argues, will be up for grabs in around four years.
Doubtless he'll be accused as a tool of the old-guard, out-of-touch, fly-boy USAF establishment or angling for a job with Lockheed Martin, but… maybe he's just telling a politically unpalatable truth.
Guess we'd better hope for the former?
Thanks, Aviation Leak.
Why is Barry O so mad? Here's why.
Nice product-placement for Almaz…

Don't ask impertinent questions like that jackass Adept Lu.