DADT Repeal Voted Down? Blame Harry Reid, Not GOP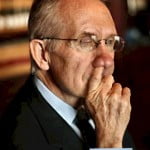 'Puter just sent Sleestak over to the Czar's library to tell him that preparations for his upcoming back surgery are taking up too much of his drinking time, and would the Czar be able to write up an official Gormogon response to DADT?
Of course, the Czar had to walk over to Ghettoputer's playroom to figure this out, because all Sleestak did was stand in the doorway and make these raspy sibilant sounds for about two minutes before the Czar, staring at him with one raised eyebrow, stood up from his chair and shoulder-shoved his way past him to find out whiskey the foxtrot was going on.
Anyway, we are all unsurprised by the media's coverage of the 2010 Failure of the DADT Repeal! Read! how the GOP voted this down! See! how they backstabbed the military servicemen and servicewomen, who would have received a badly needed pay raise from this bill! Learn! how the GOP are a bunch of homophobic hypocrites who care nothing for our armed forces!
Know why it was voted down? Because at the 11th Hour, Senator Harry Reid (D-NV) figured out he might be able to edge out his opponent, Sharron Angle, by winning some Hispanic votes.
How? It occurred to him to stuff the DREAM Act into the DADT bill as a rider. Good luck finding that piece of the story: few news agencies are providing this aspect in their coverage. Some are, but they are barely explaining it.
So here it is. You have a bill that will repeal DADT, and even increase compensation for our armed forces. And there, at the end of the bill, is a rider that would qualify otherwise illegal aliens the ability to receive citizenship-like status if they get a college degree or serve in our military here.
What? This has nothing whatsoever to do with DADT, and the Republican lawmakers—evidently aware that the American public has no further interest in bizarre riders being attached without a clear explanation, thanks to ObamaCare and Cap-and-Trade. And the GOP has been quite loud that the DREAM Act is what caused them—and numerous Democrats unhappy with being associated with another Harry Reid boondoggle—to vote down the entire bill.
First, immigrants to this country are not prevented from becoming US citizens unless there is something horrific in their past that would make them liabilities. What the DREAM Act fails to identify is that this act intends to find a way to legalize illegals who would otherwise be deported. Call it what you will, the whole thing is a stunt to help Harry Reid, who has long since demonstrated he needs to be removed from office.
Second, it shows a profound inability of Reid to learn that American voters are not the stupid cud-chewing bovines he thinks we are. Senate members have used riders for years to get pet legislation passed; however, this one is not some highway repaving project or funding for mineral research. This is a major piece of immigration amnesty that underscores how badly the Democrats understand immigration reform, and highlights the Obama administration's lack of skill in reviewing this.
Third, the press does not seem to understand that bad-mouthing the GOP is not going to help. The Democrats are so far behind in most polls that whatever they say at this point is not going to swing the election. Sure, you might sway a toss-up here and there, particularly with a Republican candidate who is tied to something specific, but guys—give it up.
DADT's repeal was voted down not because of homophobia, but because Harry Reid is a political fool in real trouble. Please—blame him.

Божію Поспѣшествующею Милостію Мы, Дима Грозный Императоръ и Самодержецъ Всероссiйскiй, цѣсарь Московскiй. The Czar was born in the steppes of Russia in 1267, and was cheated out of total control of all Russia upon the death of Boris Mikhailovich, who replaced Alexander Yaroslav Nevsky in 1263. However, in 1283, our Czar was passed over due to a clerical error and the rule of all Russia went to his second cousin Daniil (Даниил Александрович), whom Czar still resents. As a half-hearted apology, the Czar was awarded control over Muscovy, inconveniently located 5,000 miles away just outside Chicago. He now spends his time seething about this and writing about other stuff that bothers him.