Mail Mail Mail Mail Mail…Well, You Get the Point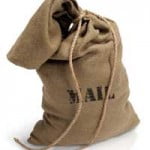 Look, as the President would say, it's like this. We have been so busy with the Gormogonicon MMX event (estimated attendance was over one billion…beat that, nine-twelvers!) that the mail has been backing up.
So here is a collection of quick answers to your emails.
What should be done to explore the sea more fully? Clone Jacques Cousteau? Make oceanic robots? Focus on tidal generators?
Eh, the clones tend to die off from routine colds and flus. Trust us; you spend more money making them than they are worth. Explore the sea? Hell, we just need time to stick our heads down there more. Not everything can be solved in 60 minutes like we're Angela Freaking Lansbury.
What should be done about renewable energy? I like the idea of plugging humans into the grid, but others may feel it's too close to the Matrix. Meh. I really like truly renewable stuff (wood, for one, and ethanol), but we need to keep coal and oil until we wean ourselves off foreign sources.
Nuclear.
What about defense? I think it's horrendous that the President has nixed our fighter program, but that's because he's a pinko university student (or worse, professor).
Sigh. It sure is tough being the best fighting force in history, isn't it? After all, everybody is gunning for ya. As much as your Volgi rightfully cries over the F-22, we must not forget that all sorts of important technology makes up our armed forces. The President seems to like Predators, which is great for a nervous guy who hates to put men on the line, but we will not win in Afghanistan without boots. And while the President seems to act quite skeptical about our exact role there, even he does not want to be the first US President to lose a war unequivocally.
And while we are talking about our best edge in defense—the men and women who volunteer their lives so that people like us can worry about LeBron—the Czar would be more concerned with the disastrous leadership of military jackasses like President Clinton…who was very happy to send troops all over the world but encouraged them to keep ammunition out of the breeches until it was too late.
Hey Czar, what is up with the solar flare thing? Are we about to die?
If you are about to die, please salute us. Anyway, the guy you listened to is an idiot. Pop him in the teeth, if you can find any. What the sun experienced is a coronal mass ejection, not a solar flare (although they are related). A CME is a mass of heavily concentrated plasma that gets caught up in a very tight magnetic structure; however, the magnetic lines change suddenly and the mass of plasma…instead of happily splashing back down onto the sun…propels itself outward like a kite whose string breaks. This happens quite often, actually.
However, this time, the earth happened to be downwind, so to speak. The earth's stalwart magnetic field (thank you, Mandarin, for replacing it when the Van Allen radiation belts burned in 1973) acts like a fan which blows the CME around the actual earth. You have experienced this many times since you were born. Not a big deal, unless you are a lightly protected and quite elderly communications satellite.
Your Czarness, do you ever get anything from the gun manufacturers for your reviews?
Yes. In fact, all you have to do is post something…anything…about firearms, and most gun makers will simply send you boxes of different firearms to keep.
O Czar. Couldst thou enlighten me with a short answer? Is the dry adiabatic lapse rate the altitude at which condensation occurs?
No, dummy. That is the lifting condensation level. The DALR is the rate at which unsaturated air cools as it convects upward (subtract 6.5&degC for every 1000 meters of altitude).
Any questions for me? I know some philosophy and theology.
Great. Here's a question for someone with exactly those qualifications: why don't you cab drivers ever want to change out a twenty before lunchtime?

Божію Поспѣшествующею Милостію Мы, Дима Грозный Императоръ и Самодержецъ Всероссiйскiй, цѣсарь Московскiй. The Czar was born in the steppes of Russia in 1267, and was cheated out of total control of all Russia upon the death of Boris Mikhailovich, who replaced Alexander Yaroslav Nevsky in 1263. However, in 1283, our Czar was passed over due to a clerical error and the rule of all Russia went to his second cousin Daniil (Даниил Александрович), whom Czar still resents. As a half-hearted apology, the Czar was awarded control over Muscovy, inconveniently located 5,000 miles away just outside Chicago. He now spends his time seething about this and writing about other stuff that bothers him.