EPA Wants to Ban Lead In Bullets (UPDATED!)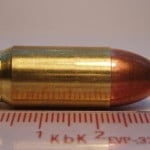 Well, the Czar does not believe that this will "seal the fate of Democrats" in November, but he does agree that a proposed EPA ban on lead bullets is beyond asinine.
Today, many shooting ranges prohibit the use of lead bullets. Why? To protect the environment! Except that they generally do not trust you to bring in your own correct ammunition, and thereby sell you the non-lead ammunition you are supposed to use. And yes, it is ridiculously expensive, and even a casual shooter can spot that they are inexpensive reloads…made by the guys at the range and marked up several times their true value or more.
A buddy of the Czar and Mandarin once had a great idea. He bought a box from the range, used it, and then kept the box. He then bought his own lead-based ammunition for a fraction of the cost, and stuffed the bullets into the dummy box. He also brought along a few fistfuls of his caliber in his gym bag. When he used up the box, he reached into the gym bag and restocked his dummy box. Anytime the range master strolled by, he had an open box of their bullets on display.
This is worse, because you just can't restock with lead bullets. You would not even be able to get them. And the Czar is not sure what the deal is. Lead is toxic if ingested. Now, you don' eat bullets, but allegedly small little critters like fish do. And then you get poisoned when you eat the fish. How often do fish eat bullets? Well, really, never. And lots of lead bullets will eventually poison the ground and pass on lead toxins to anyone who eats a salad or carrot grown there. Okay, so who plants vegetables on an outdoor shooting range? Yes, there are many ways the lead in bullets can theoretically be passed into humans; but they never happen in reality.
Do not be fooled. The lead in bullets will never be traced to any human disease. There is no reason to ban the lead in bullets except as a very obvious form of gun control. Do the math: no lead bullets means more expensive alternatives like copper. Those costs get passed onto the consumer, discouraging people from purchasing weapons.
The only time the lead in the Czar's bullets will harm someone, of course, is when they make skin contact at 900 feet per second.
UPDATE: Nope! The EPA obeys the Czar and drops the request.

Божію Поспѣшествующею Милостію Мы, Дима Грозный Императоръ и Самодержецъ Всероссiйскiй, цѣсарь Московскiй. The Czar was born in the steppes of Russia in 1267, and was cheated out of total control of all Russia upon the death of Boris Mikhailovich, who replaced Alexander Yaroslav Nevsky in 1263. However, in 1283, our Czar was passed over due to a clerical error and the rule of all Russia went to his second cousin Daniil (Даниил Александрович), whom Czar still resents. As a half-hearted apology, the Czar was awarded control over Muscovy, inconveniently located 5,000 miles away just outside Chicago. He now spends his time seething about this and writing about other stuff that bothers him.