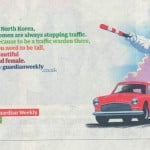 Your Mandarin, being an aficionado of cars enjoys reading Car and Driver Magazine. During a recent perusal of their web site, your Mandarin happened upon this article written by Justin Berkowitz that discusses the history of the North Korean automobile industry.
Now the thought of a thriving North Korean automobile industry is ludicrous, seeing as how the citizens of this socialist utopia and otherwise gleaming example of the workers' paradise don't have electricity to their homes or access to gasoline. And hell, where exactly are the citizens going to drive to, the supermarket, the local Sonic, the South?
Your Mandarin suspects that these cars are nothing more than the government's attempt to put a happy face on an otherwise dismal excuse for a country. Your Mandarin further suspects that many of these cars are really little Potemkin villages on wheels, and if one were to lift the hood, they would find that there was no engine, only a hole where one would stick their feet to propel the car a la Fred Flintstone.

The Mandarin, whose real name is 吏恆, joined the order in 1309, and introduced the Gormogons into England during the 18th Century.
The Mandarin enjoys spending time with his pet manticore, Βάρἰκος, or Barry (who can be found in the Bestiary). When not in the Castle…well, frankly, nobody is quite sure where he goes.
The Mandarin popularized the fine art of "gut booting," by which he delivers a powerful kick to the stomach of anyone that annoys him. Although nearly universal today, the act of gut booting or threatening someone or something with a gut boot is solely due to him.