战争, what is it good for? Establishing hegemony and destroying rivals!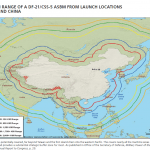 Hmm. That doesn't scan as well as it should. Still, hey, what's keeping the Œcumenical Volgi up at night, playing insomnia chess with དགའ་པོ his Yeti assistant?
War with China.
You've heard this song before, but these days, it's the increasing Chinese swagger (call it confidence, call it belligerence) and our almost complete detachment from foreign affairs—and Amateur Hour ham-fistedness when we do stagger off the well-trodden path of boondoggle spending and idiotic "racist, racist, who's the bigger racist" roundelays—that are worrying Confucius. China's been planning a war with us for a long time, and their perception of our weakness makes their making a foolishly aggressive move much more likely. Here's where Confucius usually tosses in an arch remark about our being lucky enough to have a robust F-22 force, but he hasn't been sleeping and his sense of humor is shot.
So, here, do some reading of stuff that's come across the wire in the last week or so…
…and then join Confucius and དགའ་པོ at the chessboard. Sassanian shatranj rules. Fifty Ying yüan a piece.
Image: Range of Chinese anti-ship ballistic missiles from marinebuzz.com.

Don't ask impertinent questions like that jackass Adept Lu.