West Virginia: Drop Out Rate a Crisis? Or Not?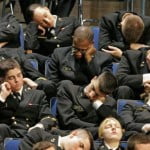 Operative JS has not checked in for some time, having been on special assignment deep in the Sudan. JS was told not to return unless there was proof of a deep underground spacecraft made of a living metal capable of dissolving all life. Anyway, JS has returned, so do the math.
Caro Czar,
I was speaking recently with a public school teacher here in West Virginia. We ranged over a wide array of topics until we reached the topic of public schools here. The situation is frightful—25% don't graduate high school and populations are dropping over most of West Virginia. However, it's worse than it appears. He spoke about the children he taught—they cannot read well, write well, do homework, and the standards are shockingly low (with many shoddy/lazy teachers). This, to me, seems unfortunately common in public schools today.
The most interesting thing was the abuse of the homebound program. This is where students, usually for a medical/disciplinary (I think) reason, do their schooling at home (like homeschooling, but without the education). Many students are abusing this privilege at great cost to the public (tax money) and to themselves (the slack off and don't learn). This is a scandal, and as far as I know, isn't spoken of nationally.
Is this merely a problem here in WV? I am asking you, o great Tsar, because you are so dang smart. S-M-R-T smart.
God Bless,
Operative JS
PS- if this doesn't make it onto the blog, I WILL KEEP ON E-MAILING GORMOGONS UNTIL IT DOES. I WILL. PERIOD.
Operative JS. Blessings in return and thanks for writing.
West Virginia high schoolers have anywhere from a 17%-25% dropout rate, which seems obscene. Lawmakers blame this on the fact that, until recently, a student could drop out of school at age 16 with parental consent. In response, they passed a bill quite recently that will raise the dropout age to 17. The conversations seem to conclude that doing so will cut the rate by a quarter, so that the dropout rate will descend from 17% to 13%. Hooray!
Of course, this is all a load of crap. 13% is still one out of eight, and that is pathetic. Further, the age of 16 has nothing to do with the problem. Ohio, for example, allows students to drop out at 16 with parental consent as well; the drop out rate there is a bit better than West Virginia's. Age really has nothing to do with it. If it did, can lawmakers explain why most kids in West Virginia drop out of school around ages 14-15?
Still and all, West Virginia needs to let go of its mining history in the 19th Century: kids need to stay in school, so the law needs a legislative correction. Finally, you would think, West Virginia is coming into line with the rest of the country. No one could hate that.
Well, guess who opposes the new law? The West Virginia Education Association, which you already know is the teacher's union. And the Czar probably does not even need to quote them: you already know they are saying that without additional funding, this will stretch overtaxed resources to the breaking point, blah blah want money yadda yadda hands are out cough cough pay raise ahem.
But hang on a second. As bad as you have heard it, facts vary. For example, in west Virginia, there were 83,481 students enrolled in public schools in 2008. Of that number, 3,680 dropped out. Forgive the Czar's math here, but that drop out rate is only 4%…and that number goes back before the bill got passed.
Indeed, West Virginia therefore falls into the middle of the pack, ranking only 30th in terms of percentages. Arizona, Alaska, and Louisiana are the worst offenders, with the last state hitting a drop out rate of 7.5%. So where did that 17% or 25% dropout number come from?
It comes from a statistical model, specifically from the year 2007. The model is called the Average Freshman Graduation Rate (or AFGR). You take the number of West Virginia students who graduated as high school seniors in 2007, and divide this by the number of West Virginians who graduated eighth grade in 2003. The number for West Virginia in 2007 was 78.2%, meaning that 78.2% of 2003 freshman were expected to graduate high school in 2007.
Okay, so what? So the media decided "this means that the difference results in your dropout rate!" 100 – 78.2 = a 21.8 percent drop out rate. Wanting more recent numbers (which are not fully known yet), they coughed up more "recent" numbers; this results in our varying 17 – 25% drop out rate (basically our original 21.8% with a few points on either side for error). Simple, yes?
Indeed, West Virginia therefore falls into the middle of the pack for dropouts. Arizona, Alaska, and Louisiana are the worst offenders, with the last state hitting a drop out rate of 7.5%. So where did that 17% or 25% dropout number come from?No, not really. The AFGR is exactly what it says it is: the rate of students who graduate in four years. Many students (a) repeat a year, (b) transfer to private schools, (c) move out of the state, or (d) get home schooled. These numbers get mashed into the AFGR, which does not track actual drop out rates. The real drop out rate is the 4% the Czar showed you previously. That makes West Virginia nowhere near the bottom.
Further, if you want to talk about the AFGR as a measure of probability a freshman will graduate in four years, here are two additional facts: (1) the AFGR of the United States, as an average, was 73.9% in 2007…meaning that West Virginia is better than the national average! Oh, and (2) the AFGR has been improving in West Virginia on average. More freshman can expect to graduate in four years.
Moreover, actual dropout rates for high school students has dropped on average throughout the US. In fact, since 1980, the dropout rate is about half today. That sounds great, but there is a hidden side to this. In 1980, you were far more likely to find gainful employment without a high school diploma than today. In 1980, your odds were not all that great, but were much better than today. While educators would like to crow that they are keeping kids in school until 12th grade, the reality is not so simple. There simply is no place for kids to go anymore; they might as well stay in school.
So your acquaintance is not using real drop out numbers, but is going with what the press, lawmakers, and the nearly destitute unions are repeating. And those numbers are a sham. By the way, you would think the union would want the actual numbers out there as proof of the wonderful job the are doing keeping so many kids in school for four years…but then taxpayers would argue that "our kids are doing all right, so we must be paying you enough."
This is getting long, but we do want to address your question about the homebound instruction program. Actually, most states have this. Because public schools are the school of last resort, they have to take in anyone who wants to attend. In many, many cases, there are students who are medically or physically unable to attend a school (illness, severe physical injuries, disabilities beyond reasonable attempts to accommodate, etc.). So lesson plans and tutors are used to instruct the students at home. In the Mountain State, doctor's mandate is compulsory, and students are limited to only four classes per semester—so a homebound student may require years of homebound instruction before graduating. This of course increases drop out candidates, and certainly lowers average test scores (especially within the homebound program), right?
There seem to be no cases of disciplinary cases or behavioral cases qualifying for the homebound program: these students must attend a special education school or basically get thrown out (yes, public schools still expel the worst offenders). Hello military!
In short, your acquaintance is working with bad numbers, and might not be seeing an unavoidable root cause for lower test scores and graduation rates with the homebound program. 'Puter will be most happy to tell you why, on the national average, unions are keeping inept teachers working at the expense of talented, skilled, and motivated teachers; similarly, the Volgi will happily explain why the educational curriculum has moved away from core math and reading skills in favor of softer, social class subjects geared toward feelings and understanding.

Божію Поспѣшествующею Милостію Мы, Дима Грозный Императоръ и Самодержецъ Всероссiйскiй, цѣсарь Московскiй. The Czar was born in the steppes of Russia in 1267, and was cheated out of total control of all Russia upon the death of Boris Mikhailovich, who replaced Alexander Yaroslav Nevsky in 1263. However, in 1283, our Czar was passed over due to a clerical error and the rule of all Russia went to his second cousin Daniil (Даниил Александрович), whom Czar still resents. As a half-hearted apology, the Czar was awarded control over Muscovy, inconveniently located 5,000 miles away just outside Chicago. He now spends his time seething about this and writing about other stuff that bothers him.