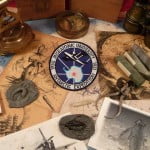 Confucius* would be a little more fired up if this project hadn't been pretty much the ne plus ultra of unfulfilled rumors, but, one has to say, this would rock pretty hard:
EXCLUSIVE: Since he left The Hobbit, Guillermo del Toro's next film has been a hot topic of conversation. I'm hearing he will next direct At The Mountains Of Madness, an adaptation of the HP Lovecraft tale that will be shot as a 3D film for Universal Pictures. The big surprise is that Avatar director James Cameron will come aboard as a producer. Del Toro was non-committal when I asked him about the prospect of Mountains days ago as we discussed the Comic-Con reaction to Don't Be Afraid of the Dark. But when del Toro announced at Comic-Con he'd cowrite and produce Haunted Mansion, he told the crowd he'd set his next film shortly, and that it would be scary. At the Mountains of Madness fits that bill, even for del Toro and Universal. The film will be a big ticket item, shot in 3D where Cameron's expertise can really help. Cameron has said he won't put his name on many future movies outside of the 3D reboot of Fantastic Voyage at Fox, but I've heard he's making an exception for del Toro. Cameron's presence helped win over the studio. I'm told the film will begin pre-production in the next few weeks, and shoot next summer.
C'mon, Antarctic horror! (Think the giant penguins will make it?)
*For those who came in late: Confucius (孔夫子) is the given name of the Gormgons' Œcumenical Volgi.


Image above from Propnomicon. Go buy some of their stuff.
And for the Czar, who disdains fiction, but really digs science, herewith A Dysquisitione on Ye Plausibilitie of Ye Elderr Thyngges.

Don't ask impertinent questions like that jackass Adept Lu.