Mailbag: Where the Wild Things Stank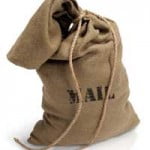 Dear Czar,
I've been visiting the castle for about a year now and it has maintained a spot as one of my ever-shifting group of 5W2TAGAED. Now for the obligatory grovelling…I owe each of you a debt of gratitude for making me seem smart and well-informed on a breadth of topics. I humbly…dang it, i can't do this bowing and scraping. I just can't be a minion. Send the Okhrana if you must, but I'm going to ask my question directly. You threatened war if childhood memories were cheapened by a poor motion picture version of Max' journey to the land of the Wild Things. Did you declare war? Were people lined up against the wall, or not? Thank you in advance for your opinion.
Your absolute equal (in the Declaration sense), and Appalachian ally,
Harley
P.S. If you are sending the Okhrana, you might could find me in the land of the overmountain men, though I'll guarantee them the same welcome extended to Major Ferguson.
The Czar spake thus: The Czar has not seen the film even as of yet, although he understands full well they dropped the ball with it. Suffice it to say, the rage was great. Without getting into detail, let it be known that they will not be making any sequel to that movie any time soon.

Божію Поспѣшествующею Милостію Мы, Дима Грозный Императоръ и Самодержецъ Всероссiйскiй, цѣсарь Московскiй. The Czar was born in the steppes of Russia in 1267, and was cheated out of total control of all Russia upon the death of Boris Mikhailovich, who replaced Alexander Yaroslav Nevsky in 1263. However, in 1283, our Czar was passed over due to a clerical error and the rule of all Russia went to his second cousin Daniil (Даниил Александрович), whom Czar still resents. As a half-hearted apology, the Czar was awarded control over Muscovy, inconveniently located 5,000 miles away just outside Chicago. He now spends his time seething about this and writing about other stuff that bothers him.