I'm Feeling Out of This World…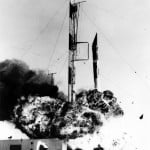 Your Mandarin discovered this story over at FoxNews.com about NASA's new mission. You may be asking yourself, is it the continuation of the Constellation program, a manned mission to Mars, or maybe the launching of a new deep space probe to another solar system? Well if you guessed any of those things you would be wrong.
What is the new NASA mission? Well in the words of NASA Administrator Charles Bolden, "my foremost mission as the head of America's space exploration agency is to improve relations with the Muslim world." And how are we going to use NASA to improve those relations, why according to Mr. Bolden, "…we are going to find a way to reach out to the Muslim world and engage much more with dominantly Muslim nations to help them fell good about their historic contribution to science and math and engineering." That's right NASA's goal is no longer the exploration of outer space, but the exploration of that inner space know as the psyche. This is the same NASA that altered climate data to help "prove" that global warming was occurring. I can only wonder how they are going to alter history to make the Muslim world feel better about themselves. I can't wait to see the Muslim world embrace Western values and recognize the right of Israel to exist once they realize that it is only because of them that the non-Muslim can add or subtract.
This article also shows how anti-American exceptionalism has crept into NASA. According to Mr. Bolden, "The United States is not going to travel beyond low-Earth orbit on its own and that no country is going to make it to Mars without international help." What a load of crap. Is Mr. Bolden trying to tell us that we have entered into a new dark age where we cannot apply the science from 40 years ago that put men on the moon and returned them safely to put a space craft into low-Earth orbit? Is he going to call the Chinese and tell them that their commitment to go to Mars on their own is doomed to failure?
What we are seeing here is an organization that was designed to showcase the best of what America could accomplish being transformed into an organization that can only accomplish mediocre tasks and only with the help of international partners. This is the result of the progressive/leftist strategy to de-throne the United States from its leadership position in the world to just another country with no leadership or influence.
Apparently it's not important how far the rocket can fly, but how it feels while it is doing it.

The Mandarin, whose real name is 吏恆, joined the order in 1309, and introduced the Gormogons into England during the 18th Century.
The Mandarin enjoys spending time with his pet manticore, Βάρἰκος, or Barry (who can be found in the Bestiary). When not in the Castle…well, frankly, nobody is quite sure where he goes.
The Mandarin popularized the fine art of "gut booting," by which he delivers a powerful kick to the stomach of anyone that annoys him. Although nearly universal today, the act of gut booting or threatening someone or something with a gut boot is solely due to him.