Chicago's Unions: A Public (and Private) Disgrace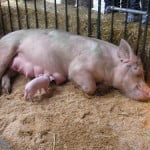 Unless you live in the area, you may not have heard that Chicago's Union of Operating Engineers (150) and the Laborers's District Council have been on strike for almost three weeks.
If you live in Chicago, you know all about it. The Eisenhower Expressway, a main artery to and from the Loop to the western suburbs has been under major renovation, with multiple lanes closed and no one working on it whatsoever. About 300 construction projects across the city and suburbs—of all kinds—have completely stopped.
Why? Because the two unions wanted a 15.9% pay increase because…well, because healthcare insurance has gone up. And someone else should pay for their coverage now that costs, according to the President, will begin going down. They settled for 9.75%, and are expected to go back to work in the next couple days. Guess healthcare costs were not as essential as a fatter check.
But that isn't the teeth of the story, for the Czar has acquaintances in numerous union trades. And the rank and file of nearly every other union is pissed about this. Why? Because unions striking for a ridiculously high pay raise in a down economy makes unions look like the greedy asshats they are. One electrical foreman told the Czar that this is going to make the unions look worse, right now when 97% of the country already hates them. He told his crew that the clock is ticking on unions in America.
Was he right? Well, River Forest School District 90, doing a major renovation, fired their union general contractor and replaced them with a non-union one. Anti-union sentiment is fired up in the American capital of Union-ness. Non-union workers are filling jobs even in die-hard union shops: a major school district is using non-union plumbers to complete work before the school year begins, even though the district is a solid union shop. Yikes. The Czar talked with them Monday afternoon.
Second, and the real reason the other unions are furious, is that the various construction trades—the carpenters, electricians, plumbers, pipefitters, everybody—also walked off the job in a show of solidarity. And that hurts, a union tradesman said to us, because he is sitting around at home not getting paid. Bills, groceries, mortgage payments…all are due, and he is not collecting a paycheck because front lumps in two unimportant unions nobody ever heard of decided to get greedy. You try going 19 days without a check and you understand why these guys are so upset.
How much? Word is that the heads of at least two separate union locals called the heads of the IUOE and the Chicago LDC and advised them, in very clear terms, do not do this. Agree to an extension of the existing contract. Wait until the economy is better. Do not put our guys out of work. Not now.
And we hear that a third union, who was to have joined the other two, did just that: they agreed to a multi-year extension. And members are not complaining that there were settlements, apparently: they know how nakedly nasty the other two guys are. What a stupid PR move, at a time like this.
Of course, you won't hear about serious infighting between unions anywhere else but here.

Божію Поспѣшествующею Милостію Мы, Дима Грозный Императоръ и Самодержецъ Всероссiйскiй, цѣсарь Московскiй. The Czar was born in the steppes of Russia in 1267, and was cheated out of total control of all Russia upon the death of Boris Mikhailovich, who replaced Alexander Yaroslav Nevsky in 1263. However, in 1283, our Czar was passed over due to a clerical error and the rule of all Russia went to his second cousin Daniil (Даниил Александрович), whom Czar still resents. As a half-hearted apology, the Czar was awarded control over Muscovy, inconveniently located 5,000 miles away just outside Chicago. He now spends his time seething about this and writing about other stuff that bothers him.