Teenage Sailor's Dad Reveals He's The Putz We Suspected He Is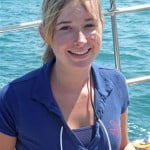 Thank goodness that Abby Sunderland was found alive and well, especially after a massive international rescue attempt that the Czar concludes should be paid for by her dumbass parents.
The Czar is impressed with Ms. Sunderland's bravery and courage, particularly for a generation known to prefer lounging on a couch watching cable than accomplishing great things. So what a terrible blow for her that her father completely undermined this by talking to the media about how awesome he is as a parent for letting her do this.
Selected quotes, edited for space:
The fact is whether a teenager, or a young adult or a middle-aged person, there have been many rescues that have taken place…Do we say that [others] shouldn't go out there and sail or that nobody should go out and sail because you face hard knocks and sometimes people need to be rescued? I don't think so…Abigail's campaign unfortunately had a blow with the masting out there in the Indian Ocean and she's proven herself on more than one occasion before now to deal with the adversities of the ocean…She's proven herself capable of dealing with this. This is more of a testimony to her will to survive and deal with the situation than a travesty that she went out there at all.
Allow the Czar to translate.
"My daughter is so great and so much smarter than your kids. Ordinary adventures that kids have, like hiking and camping with mom and dad or participating in a science fair, are pointless and meaningless to her. Why should she be denied the haphazard recklessness I pressure her to undertake? After all, you have no idea how hard it is to be a Type-A, overly competitive parent of an exceptionally gifted teenage adventurer who must live up to my expectations. That is why I support her decision to do what most adults have enough sense to avoid—to break some sort of arbitrary record that benefits no one and will be broken by someone else eventually; because it makes me look powerful for a few days. Be sure to take pictures of me, too, for your story."
Actually, daddy, she has proven herself incapable of doing this. And you have proven yourself incapable of responsible parenting. Throttle back your fatherly ego and let her grow up to be a normal young adult, and not some circus attraction to your own lack of achievement. Thank goodness some teenagers apply their genius and skill in more practical ways.

Божію Поспѣшествующею Милостію Мы, Дима Грозный Императоръ и Самодержецъ Всероссiйскiй, цѣсарь Московскiй. The Czar was born in the steppes of Russia in 1267, and was cheated out of total control of all Russia upon the death of Boris Mikhailovich, who replaced Alexander Yaroslav Nevsky in 1263. However, in 1283, our Czar was passed over due to a clerical error and the rule of all Russia went to his second cousin Daniil (Даниил Александрович), whom Czar still resents. As a half-hearted apology, the Czar was awarded control over Muscovy, inconveniently located 5,000 miles away just outside Chicago. He now spends his time seething about this and writing about other stuff that bothers him.