Such Mail the World Has Never Seen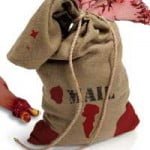 Today is Царевич's birthday party, so the Czar will be tied up most of the day. For some reason, that rope escape trick entertains the kids. With that, the Czar thought he should go through his backlog of reader mail.
MC, who has been unearthing something massive and unmentionable in the Paraguayan jungles for us, writes in with this malaria-induced screed:
Mighty and indulgent Czar, whose electrons I am not fit to waste with this transmission, I humbly bring your attention to this declassified union manual I stumbled upon:
(excerpts from last few pages)
"Demand written orders."
"'Misunderstand' orders. Ask endless questions or engage in long correspondence about such orders. Quibble over them when you can."
"In making work assignments, always sign out the unimportant jobs first. See than the important jobs are assigned to inefficient workers…."
"Insist on perfect work in relatively unimportant products…."
"…be pleasant to inefficient workers; give them undeserved promotions. Discriminate against efficient workers; complain unjustly about their work."
"Hold conferences when there is more critical work to be done."
"Multiply paperwork in plausible ways. Create duplicate files."
"Multiply the procedures and clearances involved…."
"See that three people have to approve everything where one would do."
"Apply regulations to the last letter."
"Be as irritable and quarrelsome as possible without getting yourself into trouble."
Oh, wait, that's a sabotage manual. Eh, same freakin' difference.
Operative JS intentionally misspells our name to say:
Dear Tsar,
I liked your recent post on spelling and the ENglish language. I was confused by your line "Thousands of solutions exist to eliminating illiteracy", and then I realized my own illitteracy. Hmm. Thats to close to home.
I agree 100% that we must not 'dum down' the English language. I went to a private school that exceled in English instruction, and I pride myself on my language ability. I hope and pray that others take their mother tongue, or lingua franca, as seriously.
We must not compromise for the sake of those that cannot spell correctly or speak right.
Sincerly,
Operative JS
Well, yeah, despite your bordeline spelling issues, you are exactly right. And oddly, the protestors have an ironic inkling as to why you are correct: proper spelling facilitates communications, and communications have been a massively powerful tool for survival of the species. If you cannot communicate, or find a way to inter-communicate, you are personally doomed in this society. Hey, 6,000 years ago, if Thag could not make fire, Thag starve to death. Thag not form protest to make start fire easier.
Thag, if you are reading this, the Czar apologizes for making fun of the way you talk. It was intended for humorous effect and to prove a point. The Czar knows that thanks to GorT, you know have a laptop with wireless internet connection.
Point is, if you know spelling is essential to (economic) survival, you master it. You do not waste time and resources wringing your hands pointlessly. No one is going to spell for you. Hell, 'Puter can spell, for crying out loud.
In your case, JS, we have been spiking your food supply with lead.
Royal Surgeon Dr. J asks:
History of the English Language, Aerospace Engineering, Law, Government Contracts, Time Travel, is there anything the Gormo's don't know?
Hah. You left out a ton of stuff. That we know, that is. Chemistry, biology, physics, art, philosophy, linguistics, history, political science, economics, scrapbooking, graphic design, gun repair, husbandry, and more. And on top of it, each of us has specializations in pop culture, theology, and technology.
Oh, and each of us can cook like a mofo. The Czar, in particular, can grill massively elaborate and exotic meals on either gas or charcoal. The Vogi, too, we think. The Mandarin? Absolutely brilliant with sauces and soups. He even knows how to do that split bowl thing where you have one type of soup on one side of the bowl, and another totally different soup on the other half. Genius. 'Puter has some rare and beautiful talents in the kitchen as well, and GorT is, as you know, a compact convection/microwave oven.
There are, to your point, some things we do not know. Two spring to mind. The first is royal surgery, which is what keeps Dr. J in our good graces (although we are nevertheless gifted in basic medicine, anatomy, and physiology, we do not cut open human bodies with any interest in saving people; hence the good doctor).
The second is riding a tandem bicycle. The Mandarin periodically works on some theories, and we understand work is progressing, but none of us are willing to get two on a bike to test them. So these ingenious theories involving conservation of angular momentum languish untested.
So, Gormos, what are some things you personally wish you knew more about?
| | |
| --- | --- |
| | The Volgi: Sometimes it bothers me that I do not know, on a practical level, how to pilot a one-man nuclear submarine. Every time I try, there's always something that pops up that makes me which I had a second pair of hands. Actually, it might just be easier to grow a second pair of hands. I can do that. |
| | Ghettoputer: I wish I knew more about computers, how they work, what they can do, and what they're even for. Which is ultimately a shame, because I'm a brilliant Visual C++ programmer. Also, I wish I knew how to quit you, Dr. J. |
| | GorTechie: I'm not terribly familiar with the theory of M-binary optical plasmotics. I understand the basics, like you of course, but really wish I could master the field theory to where I can practically apply the equations. Just a moment. There. Download complete. Now I have mastered that. |
| | The Mandarin: It's been my darkest regret that I never learned to read. Just kidding! Actually, the only thing I really don't know…that is, of things that actually impact my life…is this peculiar obsession with Lady Gaga. As someone who watches E! and the TV Guide channel for hours a day, there has got to be someone other than this freak to talk to. I just don't get the fascination with someone who dresses in outrageously fantastic costumes and strikes weird poses for dramatic effect. Of course, that describes me. But why her and not me? |
| | The Czar: I think I wish I could learn metal work better. Nothing would be better than getting my own steels and turning them into weapons. Imagine being able to make my own three-bladed axes, or some wickedly sharp curving thing perfect for disemboweling a peasant. I could easily make my own implements of destruction. Every time I try, I wind up with these stupid plowshares. |

Божію Поспѣшествующею Милостію Мы, Дима Грозный Императоръ и Самодержецъ Всероссiйскiй, цѣсарь Московскiй. The Czar was born in the steppes of Russia in 1267, and was cheated out of total control of all Russia upon the death of Boris Mikhailovich, who replaced Alexander Yaroslav Nevsky in 1263. However, in 1283, our Czar was passed over due to a clerical error and the rule of all Russia went to his second cousin Daniil (Даниил Александрович), whom Czar still resents. As a half-hearted apology, the Czar was awarded control over Muscovy, inconveniently located 5,000 miles away just outside Chicago. He now spends his time seething about this and writing about other stuff that bothers him.