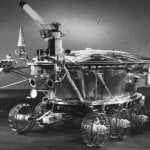 Largely forgotten, the Soviets landed a robot on the surface of the moon in 1970, where it operated for months doing various exploratory tests. Then it stopped functioning.
Here is a picture of the robot then.
Here is a picture of the Луноход today. Its position was located recently by the Lunar Reconaissance Orbiter, which also found the Apollo landers, one of the moon buggies, and various other NASA and Soviet equipment on the moon. Evidently, the LRO is like the Czar's Uncle Edvard: it has nothing else to do all day, so it cruises around the haunts looking up old girlfriends.
And here is a picture of the robot the Mandarin sent up in 1970. And now you know why the lunoxhod stopped working. And no pictures of our secret moonbase exist.

Божію Поспѣшествующею Милостію Мы, Дима Грозный Императоръ и Самодержецъ Всероссiйскiй, цѣсарь Московскiй. The Czar was born in the steppes of Russia in 1267, and was cheated out of total control of all Russia upon the death of Boris Mikhailovich, who replaced Alexander Yaroslav Nevsky in 1263. However, in 1283, our Czar was passed over due to a clerical error and the rule of all Russia went to his second cousin Daniil (Даниил Александрович), whom Czar still resents. As a half-hearted apology, the Czar was awarded control over Muscovy, inconveniently located 5,000 miles away just outside Chicago. He now spends his time seething about this and writing about other stuff that bothers him.