Right-Wing Secession? Hmmm.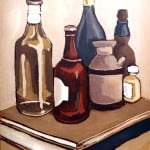 Secret Gormogon operative, who is code named REM SLEEP is working on a secret project for us that involves…guess what? That's right—a streak-free window cleaner. Come to think of it, we should probably re-assign him to that Dream Control project that we have had no luck finding operatives to manage. Ah, well, note to selves.
Anyway, on his typical 4-minute lunch break, REM Sleep writes in:
Oh Great and Glorious Emperor and Autocrat of All the Russias, of Moscow, of Kiev, of Vladimir, etc., etc.
No, stop there. The Czar is only the Czar of Muscovy. See? Божію Поспѣшествующею Милостію Мы, Дима Грозный Императоръ и Самодержецъ Всероссiйскiй, цѣсарь Московскiй. Nowhere does it mention Kiev and so forth. Frankly, Muscovy is not even Moscow (a common mistake). It is a small suburb just west of Chicago.
Anyway,
In your otherwise spot-on column on apartheid and its position on the putative left-right spectrum, you say the following:
"…radical splinter groups and secessionists tend to be leftist; name any right-wing group that wants to split themselves into a separate country! Traditionally, right wingers want to prevent secessionism because it divides resources and economic incentives…"
The answer to that is easy: Vlaams Belang, the Flemish separatist party in that bloated carbuncle of a country between Picardy and Holland. Their program is, in many ways, decidedly conservative in the American sense: pro-free markets, anti-trade unions, pro-life (!), pro-assimilation, anti-multiculturalism, etc. Plus they brew some excellent fermented malt beverages. The VB want to split off from francophone Wallonia precisely in order to divide resources and economic incentives. When that happens, according to their reasoning, Flanders will be prosperous and Wallonia will be French.
Your deep cover agent in the statist Hochburg of Chapel Hill, NC
REM SLEEP
Vlaams Belang, or the Flemish Concern, is a polical party in Belgium that is advocating the establishment of an independent country of Flanders.
They are a strange bunch. On the forefront, they appear to be a Tea Partier dream: strict immigration laws, prohibition of abortion and same-sex marriage, flat-tax adoption, and pro-gun laws. However, they hold some oddly disturbing views, such as amnesty for ex-Nazi collaborators (the reason for this is sketchy at best), anti-globalization efforts (which sounds nice but ultimately is too rough on the isolationist countries's economies and ultimately violates the entire concept of free trade), and a resistance to all things Islamic (again, the Czar gets that the Netherlands is dangerously close to going Šarīʿa, but there is a difference between maintaining your unique culture and legally prohibiting all socio-economic aspects of a specific religion…at least to our eyes).
And that said, there is a more disturbing side that has yet to be explored or clarified; namely, many members openly promote a nostalgia for Apartheid, and collaboration with American neo-Nazi groups. Okay, the Volgi points out that in one sense, Apartheid was meant to encourage independence and strength among South African blacks, but that the execution of it was a racist evil. Either way, you cannot look at Apartheid with 21st Century eyes and express a fondness for it as expressed by the party head, Bruno Valkeniers on national television. Similarly, there are numerous cases of VB members being seen consorting with KKK members and neo-Nazis as far back as 1987.
In many cases, there is a tremendous amount of racism burned into the European psyche; in this case, it may be possible for a right-wing (by American standards) politician to hold openly racist views. God knows we had 'em here in the States. So if that is the case, REM might be right that there is one avowedly conservative political party that advocates secession to protect its views.

Божію Поспѣшествующею Милостію Мы, Дима Грозный Императоръ и Самодержецъ Всероссiйскiй, цѣсарь Московскiй. The Czar was born in the steppes of Russia in 1267, and was cheated out of total control of all Russia upon the death of Boris Mikhailovich, who replaced Alexander Yaroslav Nevsky in 1263. However, in 1283, our Czar was passed over due to a clerical error and the rule of all Russia went to his second cousin Daniil (Даниил Александрович), whom Czar still resents. As a half-hearted apology, the Czar was awarded control over Muscovy, inconveniently located 5,000 miles away just outside Chicago. He now spends his time seething about this and writing about other stuff that bothers him.