Oops! Gitmo is Not Closing. Ever.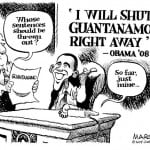 And the hits just keep on coming and coming. And coming.
As if the last four weeks have not been bad enough for the President, news comes that Gitmo's detainee facility is not closing now, not soon, and maybe not ever. And it is not coming to Illinois, either.
Missed it? No surprise: news this bad for the President is only released on dead news days, such as holiday weekends, so that no one covers it. But the Washington Times forgot that and reported the story anyway, along with a slew of other news outlets.
Seems that the House Armed Services Committee voted 59-0 against establishing any such "replacement" facility in the United States. This happened when the HASC voted to fund $700 billion for sustained war operations and defense spending—but unamimously axed something called an "Overseas Contingency Operations Transfer Fund" by the President. They recognized that for what it was: a camouflaged, buried funding request to transfer the detainees to Illinois. Request denied.
Indeed, it gets worse. For reasons of camouflage and obfuscation, HR 5136 contains no definition or line item description for what this transfer fund was. Nothing: the Czar read it. Okay, though, the Pentagon comptroller explained it all back in February. The fund gives the DoD $350 million to purchase the Thomson, Illinois, correctional facility so that the Guantánamo detainees can be placed in direct US military custody on American soil.
Of course, the comptroller's carefully worded explanation failed to say that the detainees would be transferred to Thomas: merely that the facility would be purchased so that the detainees could be placed on US soil. Thus, the denial of funds broadly means that the facility will not be purchased, and therefore said detainees cannot be transferred to US soil. And that they would be in military custody. There is only one place on earth that US military custody applies that is not on US soil. Guantánamo! This is hardly a stretch of our imagination here: the GTMO detention facility was chosen during the Bush presidency for exactly this reason. American rule of law, and any foreign host's rule of law, does not apply; instead, the UCMJ as interpreted by the JTF applies here as sole authority.
Gitmo, you see, is Cuban soil leased to, and by lease agreement under the sole control of, the United States military. And there is no other place on earth that meets those conditions. In other words, those guys ain't moving anytime during an Obama presidency. It almost seems like the comptroller knew what he was doing when the scope of the President's order was rendered into budgetary form.
Darn these pesky reminders that the War on Terror is a real, actual war (and not a social justice campaign like the War on Poverty)!
So here it is. The President elects to hide the transfer by burying it in a budget under a euphemism with minimal wording. He gets caught. He is forced to admit the total failure of his campaign promise (and allegedly the reason behind his Nobel prize!) by releasing the news on Memorial Day weekend, when no one will notice. He gets caught.
Sometimes, being President of the United States feels almost like having a job.

Божію Поспѣшествующею Милостію Мы, Дима Грозный Императоръ и Самодержецъ Всероссiйскiй, цѣсарь Московскiй. The Czar was born in the steppes of Russia in 1267, and was cheated out of total control of all Russia upon the death of Boris Mikhailovich, who replaced Alexander Yaroslav Nevsky in 1263. However, in 1283, our Czar was passed over due to a clerical error and the rule of all Russia went to his second cousin Daniil (Даниил Александрович), whom Czar still resents. As a half-hearted apology, the Czar was awarded control over Muscovy, inconveniently located 5,000 miles away just outside Chicago. He now spends his time seething about this and writing about other stuff that bothers him.