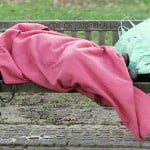 New York is still operating without a budget nearly two and one-half months after the April 1 start of its fiscal year. The Legislature is in no hurry to pass a budget as they are facing a "damned if we do, damned if we don't" situation.
The Legislature must choose between two competing factions: (1) public sector unions/government dependents and (2) taxpaying voters. The Legislature instinctively wants to reward its monied backers, the public sector unions, as they have done at great expense to the state in years past. This year, however, voters all across the state are in no mood for the usual borrowing to fund operational expense shenanigans. The pols are terrified, rightly, that the voters' anti-incumbent mood would only be exacerbated by passing a budget as usual. Hence, the Legislature is going to do nothing until after the elections in November.
Today, though, there is a glimmer of hope for 'Puter. There is the small chance that the Senate may not vote to pass another budget extender, which would mean the government would effectively shut down. 'Puter would love that, as it presents a real opportunity.
If, on the off chance a shut down occurs, 'Puter would love to see the following. Add back departments one at a time, based on necessity. First, public safety (cops, firemen). Next, transportation (road repairs and maintenance). Third, education (teachers of all stripes). Fourth, health care. 'Puter bets that pretty quickly we'd get to the point where it was apparent what government functions were less important (cut them altogether), and what portions of the more important programs could be cut (e.g., layers of administration) or streamlined (online corporate renewals, etc.). This alone would save billions of dollars without even getting into pension reform, union contracts, and the legality of public sector unions generally. That could all be a fight for another day.
But the likelihood of any sort of evaluation of government functions is about the same as the likelihood of Sleestak being released from his indentured servitude — Oops! — 'Puter means employment contract.

Always right, unless he isn't, the infallible Ghettoputer F. X. Gormogons claims to be an in-law of the Volgi, although no one really believes this.
'Puter carefully follows economic and financial trends, legal affairs, and serves as the Gormogons' financial and legal advisor. He successfully defended us against a lawsuit from a liquor distributor worth hundreds of thousands of dollars in unpaid deliveries of bootleg shandies.
The Geep has an IQ so high it is untestable and attempts to measure it have resulted in dangerously unstable results as well as injuries to researchers. Coincidentally, he publishes intelligence tests as a side gig.
His sarcasm is so highly developed it borders on the psychic, and he is often able to insult a person even before meeting them. 'Puter enjoys hunting small game with 000 slugs and punt guns, correcting homilies in real time at Mass, and undermining unions. 'Puter likes to wear a hockey mask and carry an axe into public campgrounds, where he bursts into people's tents and screams. As you might expect, he has been shot several times but remains completely undeterred.
He assures us that his obsessive fawning over news stories involving women teachers sleeping with young students is not Freudian in any way, although he admits something similar once happened to him. Uniquely, 'Puter is unable to speak, read, or write Russian, but he is able to sing it fluently.
Geep joined the order in the mid-1980s. He arrived at the Castle door with dozens of steamer trunks and an inarticulate hissing creature of astonishingly low intelligence he calls "Sleestak." Ghettoputer appears to make his wishes known to Sleestak, although no one is sure whether this is the result of complex sign language, expert body posture reading, or simply beating Sleestak with a rubber mallet.
'Puter suggests the Czar suck it.