Mailbag: Not Every Bloodletting is the Czar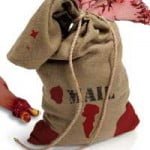 DT writes in:
I thought you were older than 21! I assume this was you, Czar?
Cops: Siblings brawl over butter in mac & cheese

Associated Press
Jun. 23, 2010 02:33 PM

WATERVILLE, Wash. – An argument over butter in a macaroni and cheese recipe churned into violence between a brother and sister.

A 21-year-old man called police to say his 17-year-old sister tried to cut his neck with the serrated edge of a spatula

The police report said the sister was making macaroni and cheese when her brother asked if she was using butter. That led to an argument over the difference between butter and margarine, which escalated.

The Wenatchee World reported the girl was charged in Douglas County Superior Court with fourth-degree assault.
Нет! And why is the Czar typing in Cyrillic twice in one day? The Czar salutes the 17-tear-old sister for attempting to slash her brother's throat in a violent and serrated manner, especially over something as trivial as food lubricant.
But the Czar was 21 in 1288AD, and that was very far away. And every day, it gets further. But not quite scenic Waterville, WA. Moreover, the Czar has no sister. However, he once tried to beat his brother to death with a theorbo over a bad serf-baiting bet.

Божію Поспѣшествующею Милостію Мы, Дима Грозный Императоръ и Самодержецъ Всероссiйскiй, цѣсарь Московскiй. The Czar was born in the steppes of Russia in 1267, and was cheated out of total control of all Russia upon the death of Boris Mikhailovich, who replaced Alexander Yaroslav Nevsky in 1263. However, in 1283, our Czar was passed over due to a clerical error and the rule of all Russia went to his second cousin Daniil (Даниил Александрович), whom Czar still resents. As a half-hearted apology, the Czar was awarded control over Muscovy, inconveniently located 5,000 miles away just outside Chicago. He now spends his time seething about this and writing about other stuff that bothers him.