Mailbag: Mr. Sunderland = Confirmed Putz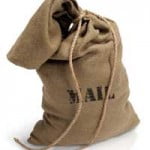 MC pitches in to the cause by sending us this:
Once again, the Czar's ability to identify putzes at long distances and time scales goes unchallenged. I was all set to cut the dad some slack on this little story, and now I hear this. Mr. Heene, meet Mr. Sunderland. Mr. Sunderland, Mr. Heene. Welcome to Putzville.
When the media comes by and asks "hey, we heard you were shopping this as a reality show", why don't people automatically STFU? No one can successfully talk his way out of that kind of story.
Agh! We should have seen this one a mile away! Great find, MC! The Czar realizes he should have smelled a Heene kind of scent about this guy, Sunderland. Jeez, does this ever make sense. And this is great, because now Abby can read up about Heene and find out what kind of jerk her own dad is.
We agree totally with MC. The Czar might even like to see the media say "We heard you were shopping this as a reality show, so piss off. Buy your own advertising, jackass." But then, if they set that precedent, the President would have nothing more to do all day.

Божію Поспѣшествующею Милостію Мы, Дима Грозный Императоръ и Самодержецъ Всероссiйскiй, цѣсарь Московскiй. The Czar was born in the steppes of Russia in 1267, and was cheated out of total control of all Russia upon the death of Boris Mikhailovich, who replaced Alexander Yaroslav Nevsky in 1263. However, in 1283, our Czar was passed over due to a clerical error and the rule of all Russia went to his second cousin Daniil (Даниил Александрович), whom Czar still resents. As a half-hearted apology, the Czar was awarded control over Muscovy, inconveniently located 5,000 miles away just outside Chicago. He now spends his time seething about this and writing about other stuff that bothers him.