Mailbag: Fear, There, and Everywhere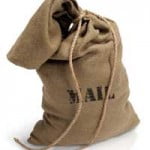 Got two in the pouch today. And since we are talking about mail, and not groin shots, the Czar would be happy to share. Actually, the Czar is happy to share groin shots, too, if you would all kindly form a line.
DT writes in, quite a bit worried, too:
Your Czaricity,
As a good operative I check your blog every 3 minutes, checking to see if you've released any more secret orders for your minions. Occasionally a full day or longer may pass without a post, and this fills me with terror. I assume your prolonged absence from the site is because you're out there lurking in shadows, preparing to give me a swift boot to the gut™.
In the off chance that you're not planning to off one of us, perhaps you can put up a post ("Operatives, I will not be gut-booting you today", etc)? That way we can be more productive in our duties by not hiding under our desks awaiting our doom.
Your humble servant, etc. etc.
D.T.
DT is a smart one, even though we defer gut booting to the Mandarin as his specialty. The Czar impales, throws axes, or simply lines them up against the wall and lets the okhrana handle it all.
The Czar has been busy only because 'Puter, Volgi, and the Mandarin have been absurdly busy recently with personal stuff. But the fact is, 'Puter has been doing an excellent job keeping up with the news lately, and the Czar has been able to let a day or two slide by without comment. In fact, the Czar will taking a three-day holiday this weekend, and may post very little. Expect music videos: the surest sign the Czar is asleep.
DT should not and never worry. He is one of our favorites, and does excellent work. Regular readers will recognize his skills, for which he will be promoted to a new project involving a computer virus. Actually, this will be a biological organism that infects computers: little software is required.
Meanwhile, MC writes in with this:
Czar,
It appears there's a Gormogon operative hiding in plain sight:
It would have been better if Dale would have kneecapped the guy, but I suppose Alabama undecided voters appreciate his courtesy of firing a warning shot.
Well, the Czar will ask around. With over 60 billion members, it is quite possible Dale Peterson is one of us…but frankly, we tend to be much better shots than that. Had, of course, the Gormogons been involved, the sign rustler would have mysteriously had a grand piano land on his head, crushing him instantly. And odder still, the piano would be covered in snow and ice.

Божію Поспѣшествующею Милостію Мы, Дима Грозный Императоръ и Самодержецъ Всероссiйскiй, цѣсарь Московскiй. The Czar was born in the steppes of Russia in 1267, and was cheated out of total control of all Russia upon the death of Boris Mikhailovich, who replaced Alexander Yaroslav Nevsky in 1263. However, in 1283, our Czar was passed over due to a clerical error and the rule of all Russia went to his second cousin Daniil (Даниил Александрович), whom Czar still resents. As a half-hearted apology, the Czar was awarded control over Muscovy, inconveniently located 5,000 miles away just outside Chicago. He now spends his time seething about this and writing about other stuff that bothers him.