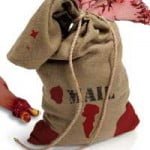 Your immenseness,
My thanks for being allowed to address your august presence. I have a question (or perhaps a comment) about, not the justness, but the method of execution of the Israeli action against the Gaza blockade runners.
Your humble servant believes the Israeli government narrowly averted being the victim of a terribly embarassing hostage situation. It would seem they miscalculated somewhat the nature and degree of resistance they would be facing on the boarded vessel. I applaud the Israelis for their obvious concern over casualties (their own and their opponents') in the way they had reportedly armed their commandos. I myself would not want to rappel to a vessel full of unknown dangers in the dead of night armed primarily with a paintball gun. Things apparently got a little livlier than was bargained for.
Your servant recalls (with apologies to Your Majesty) the 1962 Cuban missile crisis blockade wherein consideration was given by the U.S. Navy to shooting away—or jamming—the rudders of Soviet cargo vessels refusing to halt at the designated "stop" line off the Cuban coast. Israeli warships are armed with more than paintball guns. One wonders why they did not stop the ship(s) this way, then call in a third party through the UN (e.g. Iceland) to inspect (thoroughly) the stopped vessel(s) and report results of the inspection? No casualties, only bent sheet metal and a media perception of machine-versus-machine combat. Best of all, no commandos as potential hostages.
Amazing how concern the media's perception of things can cloud sound military judgment.
Island Dweller
The italics may make it hard to read Island Dweller's note, but do it anyway. There is quite a bit jammed into that gloriously phrased (and appropriately obsequious) letter.
Bottom line? Yeah, this is probably very near the truth. Israel knew there would be something on that particular boat (why is this boat unlike any other?) and elected not to pass over it. And yes, they were probably surprised by how right they were.
Hostages, though? That isn't impossible to imagine, but is a bad tactic. You elect to take Israeli commandos hostage on a boat more or less surrounded by the Israeli navy. Instant fodder for an exchange deal: you release our hostages, and we release you. Such a deal!
Instead, the Czar takes a darker view, and it also involves fodder: a few on the ship (but not all) intended to get themselves sunk and killed, thereby triggering a worldwide (albeit implausible) response of total condemnation, leveraging the UN and US to force Israel to end the blockade entirely. The plan screwed up when, as you suggest, the Israelis did a great job limiting the fatalities to 10.
This is great because the Czar also believes that many, if not most, on the boat had no intention of a suicide attack, and may have earnestly believed the humanitarian nature of the mission, and were ignorant of the actual cargo. Only a few were aware of what was really on board, and expected to use the rest of the passengers and crew as fodder. These are, after all, the same folks who like to build bombs and store weapons in and around school children. Innocents make great propaganda material when killed.
So Hamas needed more than 10 killed. And a further psychological blow was that most of those detained were immediately deported with no charges being filed. Sorry, Hamas: your innocent pawns were not only rescued, but released unharmed.
Curiously, though, this insidious plan very nearly worked. The Left of the world is irate over Israel, and condemnations are raining down almost as much as the rockets being fired from Gaza that the news media has failed to report on in the last couple weeks. The US, EU, and UN are playing right into that strategy, as well, and Israel is now facing the reality that for the first time in their history, they may be without America to back them up on a tough call.
The Czar eagerly awaits the day that an administration with a vague clue about foreign policy returns to American shores, and we can begin to repair the damage to Israel's keystone position that began in late 2008. They need our help more than ever now, and it won't be coming soon.

Божію Поспѣшествующею Милостію Мы, Дима Грозный Императоръ и Самодержецъ Всероссiйскiй, цѣсарь Московскiй. The Czar was born in the steppes of Russia in 1267, and was cheated out of total control of all Russia upon the death of Boris Mikhailovich, who replaced Alexander Yaroslav Nevsky in 1263. However, in 1283, our Czar was passed over due to a clerical error and the rule of all Russia went to his second cousin Daniil (Даниил Александрович), whom Czar still resents. As a half-hearted apology, the Czar was awarded control over Muscovy, inconveniently located 5,000 miles away just outside Chicago. He now spends his time seething about this and writing about other stuff that bothers him.