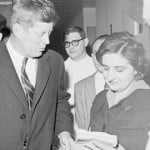 'Puter's been thinking about the White House Press Corps' crazy old aunt, Helen Thomas. 'Puter's got a few tangentially related thoughts on the matter he'd like to share with you.
1. Ms. Thomas committed the classic gaffe. That is, she spoke the truth. A large percentage (how large, 'Puter is not certain) of the media hates Israel fiercely. Ms. Thomas just gave the unspoken idea voice. One good result is that the media has belatedly discovered just how out of step it is with American opinion on the issue.
2. The mainstream media's really in a tizzy on this one. It's been presented with a Hobson's choice. If it denounces Ms. Thomas' remarks, it denounces a position (Israel for the Palestinians) that many in the media have quietly advanced in their reporting for decades. If they support Ms. Thomas, the are rightly seen as being anti-Semites. Either way, the media must discredit itself.
3. 'Puter pictures the media in this situation much like the drunk hitting bottom. It wakes up with a pounding head the morning after a weekend-long bender, looks at the wreckage of its life and thinks "What the heck am I doing?" Here, the media, bluntly and publicly confronted with its anti-Israel bent is much the same. It is confronted with the same choices. Sink back into profound denial while the sickness destroys it, or confront it and emerge a better industry.
4. America has permitted liberal elite anti-Semitism to go unchecked for too long. Press Secretary Gibbs, if he had any stones, would expressly denounce Ms. Thomas' remarks and restate emphatically America's commitment to Israeli security. He will not do so, as the White House, similar to Ms. Thomas, cares not one whit for Israel, America's only ally in the Middle East.
5. 'Puter feels vaguely sorry for American Jews who believed (wrongly) that President Obama was a friend of Jews. However, it was apparent prior to the election to all who wished to see that President Obama's administration would be no friend to Israel. That's what happens when an indentity group (gays, blacks, Jews) become too closely associated with one political party. Their loyalty is taken for granted, and they are abused. Jews have become the battered spouse of the Democrat party. Look for more lame excuses to be forthcoming.
The Administration really loves us. If we'd just given its campaign more money, it wouldn't treat us like this. We walked into a door/fell down the stairs. He didn't mean to hurt us. He'll change, we hope. We can love him enough for both of us. It's all our fault.
Sad.
6. Ms. Thomas will have a lovely retirement party this week or next from the White House Press Corps, whether voluntary or not. Enjoy your cake, Ms. Thomas. It's more than you deserve.
Respond as you see fit.

Always right, unless he isn't, the infallible Ghettoputer F. X. Gormogons claims to be an in-law of the Volgi, although no one really believes this.
'Puter carefully follows economic and financial trends, legal affairs, and serves as the Gormogons' financial and legal advisor. He successfully defended us against a lawsuit from a liquor distributor worth hundreds of thousands of dollars in unpaid deliveries of bootleg shandies.
The Geep has an IQ so high it is untestable and attempts to measure it have resulted in dangerously unstable results as well as injuries to researchers. Coincidentally, he publishes intelligence tests as a side gig.
His sarcasm is so highly developed it borders on the psychic, and he is often able to insult a person even before meeting them. 'Puter enjoys hunting small game with 000 slugs and punt guns, correcting homilies in real time at Mass, and undermining unions. 'Puter likes to wear a hockey mask and carry an axe into public campgrounds, where he bursts into people's tents and screams. As you might expect, he has been shot several times but remains completely undeterred.
He assures us that his obsessive fawning over news stories involving women teachers sleeping with young students is not Freudian in any way, although he admits something similar once happened to him. Uniquely, 'Puter is unable to speak, read, or write Russian, but he is able to sing it fluently.
Geep joined the order in the mid-1980s. He arrived at the Castle door with dozens of steamer trunks and an inarticulate hissing creature of astonishingly low intelligence he calls "Sleestak." Ghettoputer appears to make his wishes known to Sleestak, although no one is sure whether this is the result of complex sign language, expert body posture reading, or simply beating Sleestak with a rubber mallet.
'Puter suggests the Czar suck it.