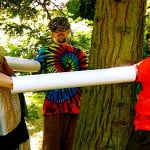 Dirty, nasty, hemp-wearing, burned-out enviro-hippies descended on Pensacola Beach, Florida yesterday to hold hands. Seriously. Oh, and Gov. Charlie Crist (I-FL) was there to suck up to the loonies as well. In this manner, the do-gooders hoped to call attention to the oil slick threatening the Gulf Coast, to protest offshore drilling generally and to clamor for green energy alternatives.
Best line of the article? There's so many to choose from, but here's 'Puter's favorite:
Michael DeMaria, a clinical psychologist from Pensacola, led demonstrators from a pavilion to the shore like an environmentalist pied piper, tooting softly on a native American-style flute. He said he often tells patients to go swimming in the Gulf as part of therapy.
Ah, hippies. Seldom do you disappoint, with your naivete, your detached-from-reality nature and your wackiness.
In response, 'Puter offers the following general thoughts.
1. Holding hands with a bunch of like-minded simpletons does exactly nothing to stop oil from washing up on Gulf Coast beaches. Thanks for all the help, 60s leftovers. Get back in your microbuses and go home to your communal yurts.
2. If anyone in America is unaware of the oil spill by now, they've been living under a rock. Your weak protest is not going to call any further attention to this slow moving disaster. Hey, hippies! Did you hear there's a recession going on? Maybe you can raise America's consciousness by holding hands in a giant circle around your local bank. Bring your ethnically sensitive fair trade drum, because we're having a drum circle afterwards.
3. If everyone who is against offshore drilling gave up their automobiles and electricity, we could stop drilling offshore. Put up or shut up, hippies.
4. Green energy isn't, nor can it feasibly fill America's energy needs anytime in the foreseeable future. Wishing won't make it so, nor will all the uninformed platitudes spewing forth from Capitol Hill.
5. If any part of your life involves "tooting softly on a native American-style flute," odds are you have nothing of use to contribute to serious debate. And shouldn't it be properly "Native American," or even better "Indian"?
There's little sporting about hippie bashing, but it's just so much danged fun.

Always right, unless he isn't, the infallible Ghettoputer F. X. Gormogons claims to be an in-law of the Volgi, although no one really believes this.
'Puter carefully follows economic and financial trends, legal affairs, and serves as the Gormogons' financial and legal advisor. He successfully defended us against a lawsuit from a liquor distributor worth hundreds of thousands of dollars in unpaid deliveries of bootleg shandies.
The Geep has an IQ so high it is untestable and attempts to measure it have resulted in dangerously unstable results as well as injuries to researchers. Coincidentally, he publishes intelligence tests as a side gig.
His sarcasm is so highly developed it borders on the psychic, and he is often able to insult a person even before meeting them. 'Puter enjoys hunting small game with 000 slugs and punt guns, correcting homilies in real time at Mass, and undermining unions. 'Puter likes to wear a hockey mask and carry an axe into public campgrounds, where he bursts into people's tents and screams. As you might expect, he has been shot several times but remains completely undeterred.
He assures us that his obsessive fawning over news stories involving women teachers sleeping with young students is not Freudian in any way, although he admits something similar once happened to him. Uniquely, 'Puter is unable to speak, read, or write Russian, but he is able to sing it fluently.
Geep joined the order in the mid-1980s. He arrived at the Castle door with dozens of steamer trunks and an inarticulate hissing creature of astonishingly low intelligence he calls "Sleestak." Ghettoputer appears to make his wishes known to Sleestak, although no one is sure whether this is the result of complex sign language, expert body posture reading, or simply beating Sleestak with a rubber mallet.
'Puter suggests the Czar suck it.