Consensually Sweaty Men Rubbing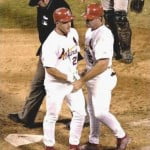 Sure, GorT is a fan of soccer (and no, I don't call it Football or International Football. It's soccer). Yes, the constant buzzing is freaking annoying – however, it doesn't bug me as I've installed a dual Nyquist-Shannon filter to eliminate those noisemakers. But should this draw as much ire as it does? Maybe mockery (heck, that is what we're about) but let's break it down:
Soccer
Yes, while it can appear boring to some, there is "chess" like aspect to it similar to the Czar's point about Baseball. The Czar partially misattributes the nature of the tie game to a European we're-all-winners mentality. It's just how the rules of the game are. There are other sports where ties happen (i.e. Football (American), Hockey, to name two) so are they equally faulty? The Czar is dead on with regards to the acting that takes place during a soccer match. I wonder if they actually practice tripping, going to the ground and writhing about in simulated pain and then getting up and sprinting on and off for the next 70 minutes. Although to be inclusive, there is a similar "come on, ref" behavior in the NBA…it might even be worse as the star players "get" calls or don't get called depending. Granted, soccer is the king of sports when it comes to this behavior.
The real attraction of soccer is that it has a low barrier of entry to play. You need a relatively flat surface, a ball and players. You can create goals with whatever is around – trees, bags, shirts, etc. It provides the opportunity for players to learn how to attack, defend, use the breadth and depth of the field and work as a team. All of which translates into other more American mainstream sports.
Baseball
Ah, the American "pastime". Hey, I didn't name it but note, it's not the "American Sport". Sure, there are multiple strategic cerebral fights going on during a baseball game that range from the positioning of fielders to the types of pitches thrown to the lineups and changes. I get that. Is baseball easy? Nope. You have less than a second to decide when and how to bat against a major league pitcher. Similarly, a soccer goalie has less than a second to react to a shot from just outside the 18-yard line (penalty box). The average baseball game is just a hair under 3 hours. That is twice as long as a soccer game. The average score of a baseball game is roughly 5-3. Note that baseball actually has rules for how long the batter can stay out of the box and how long the pitcher has to deliver a pitch once the batter is in the box. Someone will have to tell me the last time they saw that enforced in a MLB game. In fact, the umpire at Strausberg's debut game told him to slow it down. If you boil a baseball game down to actual action where players on the field are active it reduces to 17 to 19 minutes – roughly 10% of the total game time. Soccer is active 100% of the time minus injuries (real or fake). And to pile on, apparently, two baseball teams need to play each other 18 times during the regular season to determine a final ranking and conduct a best of seven to determine season end champions causing the season to run from April to late October and that's with a few double headers. Heaven only knows that after spending 19 minutes out of 180 minutes, it might be hard to exert another 19 minutes.
Having said this, realize that NFL Football only has 11 minutes of action on average in a game. Soccer, probably has somewhere in that neighborhood when you take out the give-and-take in the middle of the field. But I'll take 11 minutes of that over 11 minutes of routine pop-fly catches and 6-3 or 4-3 outs.
And I'll still go back to this point.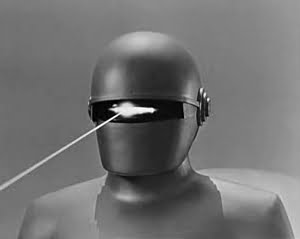 GorT is an eight-foot-tall robot from the 51ˢᵗ Century who routinely time-travels to steal expensive technology from the future and return it to the past for retroinvention. The profits from this pay all the Gormogons' bills, including subsidizing this website. Some of the products he has introduced from the future include oven mitts, the Guinness widget, Oxy-Clean, and Dr. Pepper. Due to his immense cybernetic brain, GorT is able to produce a post in 0.023 seconds and research it in even less time. Only 'Puter spends less time on research. GorT speaks entirely in zeros and ones, but occasionally throws in a ڭ to annoy the Volgi. He is a massive proponent of science, technology, and energy development, and enjoys nothing more than taking the Czar's more interesting scientific theories, going into the past, publishing them as his own, and then returning to take credit for them. He is the only Gormogon who is capable of doing math. Possessed of incredible strength, he understands the awesome responsibility that follows and only uses it to hurt people.