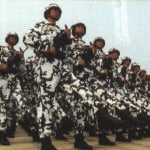 Your Mandarin is pleased to report that one of the most iconic films of the 1980's is being remade. And what film would that be you may ask. Go ahead, ask me. Oh, hell I can't wait all day, I'll just tell you, it's Red Dawn.
If you're like me and the rest of the Gormogons you'll be grabbing your tent to camp out for 73 days in front of your local movie theater to ensure that you are the first in line to see this gem of the silver screen.
But alas, according to this report from WorldNetDaily not everyone is as overjoyed that this film is being remade. In fact some critics insist that, "It's basically porn for survivalist militia types who believe it is "real" scenarios like that that justify everything from the sale of assault rifles to electing nationalist fear-mongers."
And what scenario are we talking about, well the plot of the new film is…
Set against the backdrop of contemporary politics, the film begins with an American withdrawal from Iraq. The president decides to redeploy troops to Taiwan, where escalating Chinese militarism is threatening America's ally. At the same time, he also welcomes the former Soviet republic of Georgia into NATO, unleashing Russian worries that America is spreading its sphere of influence deep into Eastern Europe. Having destabilized relations with two of the world's largest powers, the president then claims that the U.S. is only partly to blame for a global economic meltdown, further escalating tensions with China and ultimately leading to the invasion of the Pacific Northwest.
Now on the face of it this sounds like a plausible scenario based on current events. So what about this movie would have critics gnashing their teeth and rending their garments? Well it turns out that the "critics" of the film just happen to be members of, or sympathizers with the communist party. This film is a veritable cornucopia for these fellow travelers to feast upon. The fact that the enemy is Chinese allows them to cry out racism in an attempt to deflect attention away from the fact that the actual Chinese communist are an oppressive and blood-thirsty regime. Then they can go on about how this movie just feeds the jingoism that those evil tea party participants have fostered throughout this country.
Your Mandarin's favorite quote in the report comes from Jason Apuzzo at Libertas Film Magazine which states, "Hollywood doesn't do this sort of thing. This isn't the 1980s anymore. Wake up! This is the era of 'Avatar,' of 'Fahrenheit 9/11,' of Sean Penn hanging with the mullahs in Iran. The communist Chinese aren't our enemy – they're our friends! They make our TVs and T-shirts and disposable ink cartridges. Our real enemies are American corporations, environmental polluters, and all those blonde chicks on Fox News." And with ideas like this, I'm sure comrade Apuzzo will be the first in line to assist our Chinese liberators should the day come when reality takes a page from the movies.
It should come as no surprise that any movie that would support the American ideals of liberty and freedom, and that would remind us that those ideals are worth fighting and dying for would upset the progressives/communists that have spent the last 100 years trying to slowly chip away at this ideal.
In their mind they are so close to their dream, but now they have to deal with those pesky tea-parties and a resurgence of conservative ideals as a backlash to their overt grab for power with "their" president in the White House. Then to add insult to injury, someone in Hollywood has the audacity not to tow the "party" line and produce this movie.
In conclusion let me state that any movie where the commies get their asses handed to them is already a winner with your Mandarin. And when the Chinese paratroopers come don't be surprised if you see me standing at the highest parapet of the castle shouting, "Wolverines!"

The Mandarin, whose real name is 吏恆, joined the order in 1309, and introduced the Gormogons into England during the 18th Century.
The Mandarin enjoys spending time with his pet manticore, Βάρἰκος, or Barry (who can be found in the Bestiary). When not in the Castle…well, frankly, nobody is quite sure where he goes.
The Mandarin popularized the fine art of "gut booting," by which he delivers a powerful kick to the stomach of anyone that annoys him. Although nearly universal today, the act of gut booting or threatening someone or something with a gut boot is solely due to him.