Workers Of The World, Untie..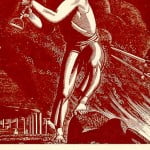 That's right, today is May 1st, or May Day for all of our progressive, socialist, communist, maoist, union, and illegal alien friends that are protesting across the country today.
This is the day that these enlightened souls "celebrate" the worker and the communist cause.
So in the true spirt of friendship and fellowship, I, your beloved Mandarin would like to tell all of those celebtating May Day to go f**k themselves and take that shit to Europe.
And for all of those that celebrate May Day as the pagen holiday it is by dancing around the May Pole, well just remember to go around the pole counter-clockwise. I won't even tell you what evil can be unleashed if you go around it clockwise.

The Mandarin, whose real name is 吏恆, joined the order in 1309, and introduced the Gormogons into England during the 18th Century.
The Mandarin enjoys spending time with his pet manticore, Βάρἰκος, or Barry (who can be found in the Bestiary). When not in the Castle…well, frankly, nobody is quite sure where he goes.
The Mandarin popularized the fine art of "gut booting," by which he delivers a powerful kick to the stomach of anyone that annoys him. Although nearly universal today, the act of gut booting or threatening someone or something with a gut boot is solely due to him.