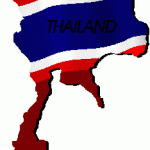 Frankly, the Thai people being who they are, you might think a protest there would revolve around football. But the Czar confesses that he, sadly, has underestimated the seriousness of the situation there. In a country of argumentation and fighting—mostly disciplined and well-intentioned—people are dying. So what is going on?
The problem begins when you instill a little bit of constitutional freedom on a people: they tend to like it, and get really peeved when someone messes with it. In 2006, Prime Minister Thaksin Shinawatra, the elected prime minister of Thailand, found himself ousted in a coup d'état. The coup opted for a military governance (surprise!), and apponted GNL Surayud Chulanont as PM. In response to this, and a veritable parade of PMs accused of criminal acts and corruption, a group known as the แนวร่วมประชาธิปไตยต่อต้านเผด็จการแห่งชาติ formed in opposition, and fortunately became known by the somewhat easier name "Red Shirts." The Red Shirts ostensibly want the popular 1997 Thai constitution restored at the expense of the military-written 2007 constitution. In reality, the Red Shirts—like many political groups—have a whole list of demands that range from reasonable to a little odd. Whatever: the point is, they have applied considerable pressure on the government and gained some good ground politically. They remain, however, fairly unpopular among most Thais who, while no fans of the current government necessarily, strongly disliked Thaksin Shinawatra and his blatant self-funding out of taxpayer pockets. They have no desire to see his repugnant style of leadership return under the Red Shirts.
So you fundamentally have a group protesting the current government, and they have done so for the last four years with varying degrees of success and failure. Until 2010. The government agreed to hold elections in November, 2009. The Red Shirts insisted on elections according to the 1997 constitution, and the government told them to pound sand: maybe there would be no elections at all, then. In response, the Red Shirts called for a massive protest in March of 2010.
Gormogons Spotlight On: ThailandSecurity was ramped up days before the event, largely due to unspecified terrorist threats that the Red Shirts interpreted as intimidation and unconstitutional restrictions. Although bombs were detonated in the city of Surat Thani, no one was injured and no one claimed responsibility (leading some to believe that they were staged by the government as a premise to crack down on Red Shirts). The actual protests on March 14 set records, and were organized and without incident.
The success of that protest fostered several others, some of which became ugly as frustration grew. Protestors stormed public government events and the parliament, embarrassing the leadership, buses were torched, and barricades erected. As the government took further steps to restrict the Red Shirts (notably, the government seized control of a Red Shirt-friendly television station—despite familiar guarantees of freedom of the press), the Red Shirts began to set up camp in touristy areas such as hotels and attractions. Simultaneously, additional bombings occurred and unidentified individuals began to drive vehicles into protestors: this also was all blamed on the government.
When the police came to roust the protestors, the determined violence began. In a tit-for-tat strategy, both police and protestors became injured. Eventually, blood was spilled on all sides and is now quite terrible.
What the heck is happening over in Thailand?Thai politics have always been messy, but with no degree of violence like this. The situation is particularly muddled: the current PM, Abhisit Vejjajiva, elected under the new rules, is considered by most Thais to be virtually perfect—no rumors of corruption or tainted politics. The largely unliked Red Shirts, who nevertheless have credible claims of illegal and unconstitutional suppression, are under the direction of a former prime minister widely regarded as an enormous jerkass. The military is under no pretense of fairness here, and seems to be making matters worse. The fear is that with so many unpleasant forces at work, the rapid escalation of violence concerns many that a civil war is brewing: if not soon (and likely not soon), then later.
One thing upon which all Thais agree is that their aging monarch is beyond reproach and as perfect a person as one can be. Many Thais (and the Czar believes most Thais) believe that a simple request from him will settle the situation instantly. However, he has been curiously quiet—fueling speculations that he, like most Thais, is fed up with the entire affair and wants to see the real, functioning government that Thailand has owed itself for decades.

Божію Поспѣшествующею Милостію Мы, Дима Грозный Императоръ и Самодержецъ Всероссiйскiй, цѣсарь Московскiй. The Czar was born in the steppes of Russia in 1267, and was cheated out of total control of all Russia upon the death of Boris Mikhailovich, who replaced Alexander Yaroslav Nevsky in 1263. However, in 1283, our Czar was passed over due to a clerical error and the rule of all Russia went to his second cousin Daniil (Даниил Александрович), whom Czar still resents. As a half-hearted apology, the Czar was awarded control over Muscovy, inconveniently located 5,000 miles away just outside Chicago. He now spends his time seething about this and writing about other stuff that bothers him.