Secretions from A Secret Summit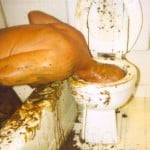 Well, it took five hours. And a fair amount of liquor and coffee.
But here are some things that happened at tonight's secret mini-summit.
1. We did not actually decide what it should be called. Yon Volgi suggested a Gormogonicon Northwest, but the Czar suggested West-Northwest, because we have a location that is technically Northwest of where we were.
2. Dat Ho is most thievish, and must be punished forthwith.
3. Some physics professors are absolute jackasses (or a cur who is a son of a cur), while others are very good.
4. Railroad Tycoon…not a bad game to teach little kids math.
5. If you gave 'Puter a crayon and a packet of sugar, he could probably write a post on this site.
6. We discovered the Mandarin has a mother-in-law.
7. After a couple glasses of red wine, the Volgi seems to think that his share of the tab should be $40 more than everyone else, especially since the Mandarin just had a giant iced tea and a burger of some sort, while the Czar had about eighteen pints of beer.
8. Speaking of which, this was the first time the Czar drank beer from Morocco. And it wasn't too bad, although there was a substantial lack of Arabic writing on the bottle.
9. President Obama? Not quite who he pretends to be. And someone to be watched very closely in the next few months.
10. The Volgi complained about the compact fluorescent lights in his monastic cell. The Mandarin advised using some bulbs he created that produce more light but a lot more heat. The Czar suggested that he inexpensively gets a lot of light and heat by burning peasants.

Божію Поспѣшествующею Милостію Мы, Дима Грозный Императоръ и Самодержецъ Всероссiйскiй, цѣсарь Московскiй. The Czar was born in the steppes of Russia in 1267, and was cheated out of total control of all Russia upon the death of Boris Mikhailovich, who replaced Alexander Yaroslav Nevsky in 1263. However, in 1283, our Czar was passed over due to a clerical error and the rule of all Russia went to his second cousin Daniil (Даниил Александрович), whom Czar still resents. As a half-hearted apology, the Czar was awarded control over Muscovy, inconveniently located 5,000 miles away just outside Chicago. He now spends his time seething about this and writing about other stuff that bothers him.