The Sales Guy You Shouldn't Have Hired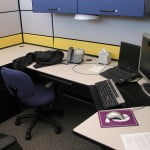 Imagine you are the head of a sales department, and have a dozen or so salespeople working for you, promoting your products and services. If you in fact ever worked in such a capacity, you will almost certainly recognize what follows.
Every so often, about once every two or three years, a sales guy joins the team. He produces a lavish work history, and mentions his experience landing major accounts with impressive contacts. A couple of corner office execs think his credentials can really open doors—especially after old Gus retired and a lot of his sales leads went away. Could be just the thing in this economy, too.
Odd things start happening right away. The new guy blows off his first-day lunch with you, later saying that he had to meet his wife somewhere. Okay, fine. He announces he has a ton of appointments, and misses his HR training, his orientation tour, and introduction to the other sales team. In fact, one of the sales guys asks you about the new guy, saying something like "I tried to say hello, but he acted all annoyed and then basically said he would hit his quota way before me, and I could go screw himself." Wow, you think, is this new guy maybe… a jerk?
Then you start seeing expense reports coming in: $400 lunches with big clients but names of people you do not recognize. $200 in mileage in one week. Gas, golf foursomes, and unspecified entertainment expenses. You catch him (finally!) walking through the office and ask him how his prospects are going…after all, the expenses are pretty high. "Gotta build the business," he says with a wink. "This job is all about networking the contacts, right?"
After a month, the expenses pile up but you just do not see the guy around. No clients are coming in, and so far his actual sales forecast reports look ridiculously light. There have been a couple of sales here and there, but for small amounts to rinky-dink clients. So where is he?
You notice his desk is pretty much empty besides a stack of junk mail and some business cards he threw there. On a hunch, you call your HR department. After curtly reminding you he never showed up for his mandatory orientation and policy training, they confirm your suspicions: he has already used up all his available vacation, and every time he accumulates 4 hours of sick time, he goes home at 1:00, ill.
Then you get a phone call from one of the clients he inherited from old Gus. They are irate—someone or something from your company blew up. Bad. They tried calling the new guy, but kept getting voicemail. Pages were ignored. You call around, but nobody has seen the guy or heard from him. Eventually, you get things settled with the client, but have a sneaking doubt they won't be coming back for future business. Turns out the sales guy was on a three-day sales networking golf junket, which you learn about from his expense report.
After six months of this, you order him into the office. He shows up, late and casually dressed. You lay it down—things need to improve or he's out the door. He gets red-faced and angry, and reminds you about his successes with a dozen Fortune 100 clients in the past. You ask him where these clients are today. You ask him if he has brought in more than a couple thousand dollars in sales since he arrived. And you point out that his ongoing expenses now exceed all that he has sold. He says he will do better, and actually if you hadn't called him for this meeting, he would right now be giving a sales presentation to the CEO of 3M.
Fair enough, you say—you demand to accompany him on the next sales call. Within an hour, he sends you an email invite to a meeting with a president of a major auto parts distributor in your area. Wow, you think, that is a good lead! But the morning of the meeting, you get a terse voice mail—left at the improbable time of 4:38 AM—that the prospect cancelled the meeting and will reschedule for early next week. Sure enough, you do not receive an email for a rescheduled meeting.
Eventually, you realize the guy is a fake. You call him into the office, and fire him. He of course screams and shouts that you are completely wrong about him, and that he is as good as he said, but so far you and your organization and your stupid rules keep getting in his way. You let him holler, because it won't do a bit of good. As soon as he goes out the door, he becomes some other employer's problem.
The weirdest difference here is we cannot quite fire President Obama so easily. Other than that, he is the absentee employee in this story.

Божію Поспѣшествующею Милостію Мы, Дима Грозный Императоръ и Самодержецъ Всероссiйскiй, цѣсарь Московскiй. The Czar was born in the steppes of Russia in 1267, and was cheated out of total control of all Russia upon the death of Boris Mikhailovich, who replaced Alexander Yaroslav Nevsky in 1263. However, in 1283, our Czar was passed over due to a clerical error and the rule of all Russia went to his second cousin Daniil (Даниил Александрович), whom Czar still resents. As a half-hearted apology, the Czar was awarded control over Muscovy, inconveniently located 5,000 miles away just outside Chicago. He now spends his time seething about this and writing about other stuff that bothers him.