Methinks Thou Doth Protest Too Much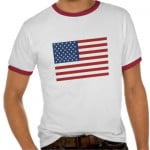 The Mandarin was going to post on this, but something in the basement is leaking a violet-colored fluid, and he has been quite upset about whatever it was.
So here goes. A story making very little headway once again reveals how the press would rather some stories not make their pet causes look incredibly stupid.
Live Oak High School, Morgan Hill, California. Five students were sent home when they showed up to school wearing inappropriate attire, according to the school administrators. Their crime? They wore clothing that featured American flags…on Cinco de Mayo.
You read that right, and that is pretty much the whole story. The kids showed up, apparently as they frequently do, wearing clothing featuring Old Glory. The Czar has a few shirts that feature Old Glory.
But the idea struck the school administrators as offensive on Cinco de Mayo. Doubtless, this was clearly to provoke anti-Hispanic something or other, so the kids were sent home. Claims by the school that the students were leading a pro-American chant at lunch were discredited.
An editorial in US News and World Report, of all places, is taking the students's positions.
The Czar thinks:
1. Cinco de Mayo is not an American holiday. It is striving to become another St. Patrick's Day: an excuse for 20-25-year-olds to get obscenely liquored up in public with little clue about what the background is. Beyond that, it has no effective basis in America, any more than we would expect Somalia to shoot fireworks off for us on July 4th.
2. Cinco de Mayo is barely a Mexican holiday. By that, the Czar means that the vast majority of Mexicans treat it as an ordinary day, and don't even get the day off work. Its over-hyped marketing in America frankly surprises most Mexicans as a bit… creepy.
3. An American flag, properly and respectfully rendered on clothing, is never inappropriate unless a formal, previously stated dress code forbids the wearing of the category of said clothing (no t-shirts, etc.). The Czar would not have dared wear a t-shirt to grade school, flag or not. There appears to have been no previously stated restriction for these students, and so they were in the right to wear what they did.
4. Inconsistencies in the behavior of the school reveal that the action by administrators is hypocritically enforced. The school continued to fly its American flag, and feature American flags inside the school. Actions therefore by the school reveal that these five kids were specifically targeted from the outset.
5. An apology is owed to the students, and the suspension shall be expunged from their records. The Czar would expect the ACLU to jump in here, since this is the sort of anti-free-speech move by an organization that the ACLU loves to hit hard.
6. Fearing a display of American support over a group of Mexican-American students who likely do not celebrate Cinco de Mayo much at home reveals a pathological fear of Mexican rage. Indeed, it is the adminstrators who reveal prejudicial leanings that border on racism. In fact, over-compensating for race, rather than treating all people equally, is a highly seductive form of racism itself. Nice work, Live Oak administrators: you revealed yourself as gutless, racist cowards at last.
Speaking of legal attire, enjoy your law suits!

Божію Поспѣшествующею Милостію Мы, Дима Грозный Императоръ и Самодержецъ Всероссiйскiй, цѣсарь Московскiй. The Czar was born in the steppes of Russia in 1267, and was cheated out of total control of all Russia upon the death of Boris Mikhailovich, who replaced Alexander Yaroslav Nevsky in 1263. However, in 1283, our Czar was passed over due to a clerical error and the rule of all Russia went to his second cousin Daniil (Даниил Александрович), whom Czar still resents. As a half-hearted apology, the Czar was awarded control over Muscovy, inconveniently located 5,000 miles away just outside Chicago. He now spends his time seething about this and writing about other stuff that bothers him.