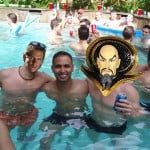 Your Czar and his movie buff Цесаревич have just returned from Iron Man 2. Short review? Very good film. But everyone wants to know if it is as good as the first one. Long answer: hard to say. While Robert Downey Jr. is every bit as good as in the original, there could be a bit more Iron Man in this film. That said, when he does get going, he does quite well for himself. And while a lot of folks rave about how great the first one is, the Czar must readily admit that Mickey Rourke and the other bad guys in the sequel are much more threatening than listening to endless speech making by the Big Lebowski. Seeing it in a theater? You will have a lot of fun. Waiting for DVD? You will be okay there, too.
And Mickey Rourke is fun, although his Russian characterization was a little off. You had to wait nearly 20 minutes before he impaled anybody. A real Russian would have done that right away, but the Czar understands Rourke wanted to avoid stereotyping.
But Gormogon operative TBG popped up behind the seats of the theater (excellent shadowing!) to hand the Czar a news clip.
Iron Man 2 Director Jon Favreau Wants The Mandarin For Third Movie
"The Mandarin? Seriously?" he whispered.
Well, yeah! Why not? After all, the Mandarin has done his bit for Hollywood before. Most of you may well remember him in 1987's Pool Party with Ted Knight, Michael Dudikoff and a then-unknown Queen Latifah. He of course played Boots, the wacky track star at the school who accidentally poured the crate of 151 rum into the pool filter on senior swim day, when all the elderly folks got crocked and fell into the pool when the Mayor was giving his press conference there.
In fact, the Czar managed to cough up a publicity still with Mandy, the Dudester, and the actor Benny Hermanez, who was supposed to be the next big thing in Hollywood skiing movies but wound up with a tango uniform career in 1992 playing a serial killer in a string of Lifetime movies.

The Mandarin would be a big hit if he returned to movies even if action is not his genre. At the very least, no doubt, Mandy will correct a lot of the Stark weapon technology in Iron Man 3. Or at the very least, update that stuff to something akin to what we use here at the Castle. On each other.

Божію Поспѣшествующею Милостію Мы, Дима Грозный Императоръ и Самодержецъ Всероссiйскiй, цѣсарь Московскiй. The Czar was born in the steppes of Russia in 1267, and was cheated out of total control of all Russia upon the death of Boris Mikhailovich, who replaced Alexander Yaroslav Nevsky in 1263. However, in 1283, our Czar was passed over due to a clerical error and the rule of all Russia went to his second cousin Daniil (Даниил Александрович), whom Czar still resents. As a half-hearted apology, the Czar was awarded control over Muscovy, inconveniently located 5,000 miles away just outside Chicago. He now spends his time seething about this and writing about other stuff that bothers him.