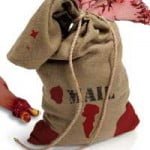 Gormogon special agent Graybeard writes in:
Your Czar-ship, Czar-ness? Majesty?
In your otherwise insightful Korean essay you make an error of fact that I assumed someone else would correct by now. Since there's no mail listed, allow me.
You say "When North Korean tanks and infantry rolled into the South in June of 1950, bases all over the world went on red alert….. the conclusion in the West is that the Communist global overthrow had begun. But Miami reported nothing odd from Cuba…No Cuban marines… "
In 1950, Cuba was still under Batista. The Cuban Revolution didn't happen until 1959, so there would have been no communists to react in Cuba. Growing up in Miami, with many friends who escaped before the communists took over, and knowing others who strapped together any few pieces of junk that would float in order to brave the open ocean for days to escape that tropical paradise, that date is one that tends to stick with us.
As I say, though, not to disparage the piece.
While I'm here, let me add I've been reading your site for about a year, and it's on my regular, check-it-every-day list. I have you on my blogroll at http://thesilicongraybeard.blogspot.com/
With title-appropriate reverence,
Graybeard
Eh. Czar will do.
On the one hand, you are absolutely correct that the Czar's memory gets a bit off by ten years. When you are 800 or so years old, you will understand. But on the other hand, the Czar was of course using code when he made reference to Cuba.
Allow us to demonstrate. If you take the decimal code for CUBA, you get 67 85 66 65. Add those numbers up, and you 283. Now run those numbers backwards (56 66 58 and 76) and you get the number 256. Subtract 256 from 283 and you get 27. 3 times 3 times 3. The obvious magic trine.
Add 27 to 283 and you get 310. Break up 310 into equivalent addends and you wind up with the numbers 75 76 77 and 82. Which you will find are the decimal codes for KLMR. Val Kilmer? Admit it: you knew the answer before you even wrote in.
That said, the Czar appreciates you not only warning foolish readers unfamiliar with our secret codes that they could make a basic historical error, but also for adding some interesting narrative about Cuban interests. Oh, and of course, reading and loving our site for the last year!
Graybeard is cool. We must keep him that way.
Meanwhile, in what must be an unrelated note, Gormogon wax ring consultant JR writes in to…it is hard to say what. Chastize? Berate? Warn? Err… something the good folks at MLB:
Memo to the folks at Major League Baseball (and quite a few others out there too).
It's wonderful that you recognized veterans today at the ball game, by having anyone who has served stand up prior to the game and be applauded.
However, if you read your history, you'll find that "Memorial Day"* is a holiday for honoring war DEAD, not veterans generally. Veterans have their own holiday, in November. It's called "Veterans Day". Printed right on the calendar and everything. You can't miss it.
Truthfully, I don't think I want to attend a baseball game where the people we're supposed to be honoring on Memorial Day are able to stand and be applauded.
So there. Hey, even better: do what the Chicago Blackhawks do. At every home game, they recongize (during the national anthem) both an active and retired military representative. One on the right, one on the left, of the singer as the fans tear the roof off with cheering. Both of them generally weep with pride at the reception.

Божію Поспѣшествующею Милостію Мы, Дима Грозный Императоръ и Самодержецъ Всероссiйскiй, цѣсарь Московскiй. The Czar was born in the steppes of Russia in 1267, and was cheated out of total control of all Russia upon the death of Boris Mikhailovich, who replaced Alexander Yaroslav Nevsky in 1263. However, in 1283, our Czar was passed over due to a clerical error and the rule of all Russia went to his second cousin Daniil (Даниил Александрович), whom Czar still resents. As a half-hearted apology, the Czar was awarded control over Muscovy, inconveniently located 5,000 miles away just outside Chicago. He now spends his time seething about this and writing about other stuff that bothers him.