Mailbag: We Received Flyers in the Mail Today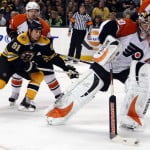 Dear Czar,
FLYERS!
Respectfully,
Dr. J
Royal Surgeon of the Gormogons
Yep! And what about the weird symmetry of Boston going up three games, then Philly getting four in a row…and, in the last game, Boston going up three points to have Philly score four in a row?
Anyway, today is very much hockey day. The Czar has brought the family over to Castle to watch the game in hyper-def on GorT's ultra-plasma (which contains plasma, heated to a hundred thousand degrees or something like that, to produce deeper ultraviolets and x-rays than your regular television).
Naturally, of course, we will be rooting for our beloved Blackhawks, while 'Puter stays up in his room carving Xs onto his Alex Ovechkin poster with a pen knife, having finally scraped off all the lipstick. No, relax about the lipstick: the poster actually comes that way from NHL.com. 'Puter understands there are actually other talented guys on the Caps, even if the NHL marketing group does not.
Where were we? Mandarin, to increase our enjoyment of the game, has taken the keys to GorT's time machine to prevent the silver slicker from doing what he usually does: racing out of the room, then racing into the room a second later to announce what is about to happen a second or two later on the close plays. Drove us nuts in the Olympics. Anyway, his short-term time traveling has been curtailed until after the Stanleys are over. Poor GorT is limited on to +/- 100 year jumps. Hah!
And before you write in to say "What's top stop him going to the year 2110, looking up the results, and then coming back to announce it?" Details. We already know how it must end. Besides, the year 2110 has seen most of the books and records of the 21st Century burned to cover up the Great Obama Hypocrisy of 2012.
You will hear more about that later.

Божію Поспѣшествующею Милостію Мы, Дима Грозный Императоръ и Самодержецъ Всероссiйскiй, цѣсарь Московскiй. The Czar was born in the steppes of Russia in 1267, and was cheated out of total control of all Russia upon the death of Boris Mikhailovich, who replaced Alexander Yaroslav Nevsky in 1263. However, in 1283, our Czar was passed over due to a clerical error and the rule of all Russia went to his second cousin Daniil (Даниил Александрович), whom Czar still resents. As a half-hearted apology, the Czar was awarded control over Muscovy, inconveniently located 5,000 miles away just outside Chicago. He now spends his time seething about this and writing about other stuff that bothers him.