Mailbag: Mind, Spirit, and Body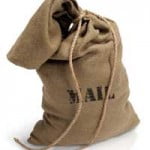 Meanwhile, Gormogon operative FJR writes in after a too-long absence:
I wanted to thank you for the recent video post of Hayek & Bork. What a marvelous video.
You are quite welcome. The Czar, though, had nothing to do with it; that is pure Volgi.
I also wanted to thank Mr. Ghettoputer for his excellent post on Catholicism. Although I am Baptist I have never understood why other non-Catholics get so bent out of shape over Catholic doctrine. Catholicism is not a cafeteria faith plan where you can pick and choose which doctrine you want to believe. If you don't believe the whole doctrine then you're not Catholic. Go be Unitarian if you want a cafeteria plan. Heck, for that matter stick a rabbits foot in your pocket because it's obviously not absolute truth to you, it's more of a superstition. I am not offended by the Catholic Church's adherence to their doctrine or the fact that they do not consider my denomination part of the catholic church (universal Christian faith).
Now this one was Ghettoputer, and we hope he comments separately. Listening to the Czar talk about religion is pretty much like hearing a fish talk about breath control.
Lastly, I have growing aggravation towards post on blogs demonizing the BP executives and BP in general. I am not an oil rig expert or a deep water drilling engineer so I can only imagine how difficult it would be to cap a pipe spewing oil and volatile gas one mile underwater. So tricky in fact that the original capping process caused the initial explosion and rig collapse. I do work in construction and know that things can go terribly wrong, terribly quickly. Other than assist in containment and cleanup of the spill I don't see how the Government can provide any qualitative input to help cap the leak. I would be more concerned if the Government was trying to cap the leak because they consistently prove their incompetence. I recently had a project for [some military folks] to repair a very large, very old leaking fire main pipe underground. We worked as quickly as we could under difficult conditions only to have the repaired pipe burst at another joint. All the while the [military] folks were wringing their hands and screaming that it was taking too long. Screaming that it has to be fixed NOW is never helpful. My little problem wasn't an environmental disaster so I can only image how BP feels. I do know that BP is more motivated than any other entity on the planet right now to get the leak stopped. My personal opinion is that unless you have a constructive solution to cap the leak then you need to shut up and help with the cleanup.
Sorry that was so long but I've been saving up my oil leak frustration for some time.
That's okay. We are, frankly, a long way from determining who is the ultimate cause of blame for the catastrophe in the Gulf. Tweren't us, though. We can, however, worry about who is to blame later, although the Czar easily predicts there will be a lot of it to go around. Meantime, it is fair to wonder why the efforts to contain this have gone horribly awry, and why the State of Louisiana finds it necessary to write off Federal assistance as though it does not exist, and so on. Had this happened five months ago, the President would have raced down to the Gulf to talk about… healthcare. The guy just ain't cutting it.
As we go along and have time to unravel the blame, the current administration is going to look as bad as BP or even worse simply for failing to deal with the containment merely to score political points.

Божію Поспѣшествующею Милостію Мы, Дима Грозный Императоръ и Самодержецъ Всероссiйскiй, цѣсарь Московскiй. The Czar was born in the steppes of Russia in 1267, and was cheated out of total control of all Russia upon the death of Boris Mikhailovich, who replaced Alexander Yaroslav Nevsky in 1263. However, in 1283, our Czar was passed over due to a clerical error and the rule of all Russia went to his second cousin Daniil (Даниил Александрович), whom Czar still resents. As a half-hearted apology, the Czar was awarded control over Muscovy, inconveniently located 5,000 miles away just outside Chicago. He now spends his time seething about this and writing about other stuff that bothers him.