It's No Fun Being An Illegal Alien…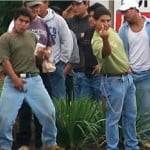 Your Mandarin happened upon the story of university student Jessica Colotl today. You may be wondering what makes Jessica newsworthy. Well according to the article on CNN.com, Jessica has become a lightning rod in the immigration debate and part of a civil rights disaster.
You may be asking yourself how Ms. Colotl found herself in the spotlight of one of the most volatile issues in this country. According to the article, "Colotl's legal problems started in late March when her car was stopped on the Kennesaw State campus. Born in Mexico but living in the United States since she was 11, she could not produce a driver's license, so she handed over as identification an expired passport from Mexico."
Once it was determined that Ms. Colotl was not a U.S. citizen, and that she was in the country illegally, the Cobb County sheriff's office detained her and called immigration authorities. The sheriff's office did this under the U.S. Immigration and Customs Enforcement 287(g) program. This program allows state and local law enforcement agencies to partner with ICE to exercise limited immigration enforcement authority in their own jurisdictions.
Well you might think that this is a simple open and shut case. Here you have a woman who has entered this country without proper entry documents, has taken up residence without permission to live in this country – either as a permanent resident, or on a student visa – and is operating a motor vehicle without a driver's license.
Well it turns out, at least according to the ACLU and other "civil rights" groups that Ms. Colotl is a victim. And how do you know that she is a victim, well let's look at the following quotes and statements from the article:
Labeling the program a "civil rights disaster", Mary Bauer, legal director of the Southern Poverty Law Center, said it, "leads to racial profiling, distracts police from looking for real criminals and destroys families."
"Jessica's case is yet another outrageous example of the unaccountable local enforcement of immigration laws in Cobb County gone awry," said Azadeh Shahshahani, ACLU of Georgia's national security/immigrants' rights project director.
Immigration attorney Charles Kuck stated, "Jessica can't start the process to become a U.S. citizen because she is not allowed to. If Jessica could obtain a license, she would have."
So we are to believe that the enforcement of the immigration laws leads to racial profiling. For the record the cries of racial profiling are nothing more than a red herring used to divert attention from the real issues at hand. This is no different than calling the Cobb County sheriff's office racist. Once this term is unleashed, the focus is no longer on Ms. Colotl, but on the ulterior motives of the evil sheriff's deputy that pulled her over for being "brown skinned." Also, how does Ms. Bauer expect the police to go looking for real criminals? I mean, what is a real criminal? How does one go about identifying them without incurring the wrath of the Southern Poverty Law Center? Sorry Ms. Bauer, but once you violate the law – whether that's violating immigration policy, operating a motor vehicle without a license, or robbing a bank – you are a criminal.
And this brings us to our friends in the ACLU. Just exactly how is this an unaccountable local enforcement of immigration laws? The sheriff's department was participating in a federal program designed to assist over stressed ICE agents enforce the laws of the U.S. Ms. Colotl was not singled out and stopped as she went out for ice cream, but rather was pulled over for a traffic violation. The status of her citizenship didn't surface until she could not produce any valid identification except for an expired Mexican passport.
Then we have Ms. Colotl's immigration attorney that feels that her troubles stem not from her violation of the law, but because she is not allowed to become a U.S. citizen. Well the truth of the matter is that there are no barriers to her becoming a U.S. citizen. Ms. Colotl, like millions of immigrants before her can apply for U.S. citizenship. All she has to do is go to the local U.S. consulate or embassy office in a city or town in Mexico and apply. Once her paperwork clears, then she can be issued the proper legal documents to enter and live in the country. Then if she wishes, she can apply for citizenship and perform the tasks needed to obtain it.
The bottom line is that there is a huge difference between a xenophobic closing of the borders and the enforcement of immigration laws. The liberals/progressives/Marxists in this country would have you believe that anyone that calls for the enforcement of the law is a racist xenophobe. See how this works. The minute that you are called a racist xenophobe you have to spend all of your time defending yourself against the accusation which distracts everyone from the fact that the law is being violated.
Immigration laws and policies serve a purpose. For one thing, they allow the government to screen the backgrounds of those seeking entrance into the country in an effort to weed out criminal elements. Secondly, with a faltering economy the government should exercise the right not only to limit the amount of immigration, but to also require that any immigrants either have a useful skill or have enough financial resources to support themselves.
This story highlights the plight of the victim's in the immigration debate. The reality is that the victim is not Ms. Colotl or the millions of other people that are in the country illegally, but those of us that are citizens and our parents or grandparents that immigrated to this country legally. There is a fine line between respecting the rights of those who have violated the law, and rewarding them as victims of the law.

The Mandarin, whose real name is 吏恆, joined the order in 1309, and introduced the Gormogons into England during the 18th Century.
The Mandarin enjoys spending time with his pet manticore, Βάρἰκος, or Barry (who can be found in the Bestiary). When not in the Castle…well, frankly, nobody is quite sure where he goes.
The Mandarin popularized the fine art of "gut booting," by which he delivers a powerful kick to the stomach of anyone that annoys him. Although nearly universal today, the act of gut booting or threatening someone or something with a gut boot is solely due to him.