Famous Movie Guns—Go see 'em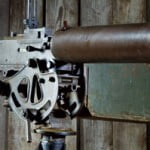 The first movie star I ever saw was a disappointment. Beautiful on screen, in life she turned out to be scrawny, sullen and surly. No eye contact, no communication save muttered bromides, she clearly hated meeting the press. Her hair was bigger than she was. She was a kind of Kewpie Doll from hell. Okay, so it was Jane Fonda, shilling a movie called "Rollover."

The last movie star I saw was a vast improvement. Regal, queenly, majestic, she was an essay in charisma. The sense of presence generated, the recollections launched, the fondness warmly felt, the grace in aging well, all represented her as a true star in the best Hollywood tradition. Katharine Hepburn? Lauren Bacall? Okay, so it was a machine gun.
The great Stephen Hunter on an exhibit of famous movie guns at the National Firearms Museum—which is out of the way (in the lobby of the NRA's building on Waples Mill Road in Fairfax, Virginia), but a free and wonderful little museum (in square footage; guns are small).

Don't ask impertinent questions like that jackass Adept Lu.