The Fact-Challenged Administration Speaks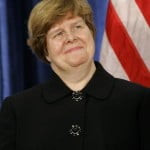 In this morning's Washington Post, Christina D. Romer, Chairman* of the White House Council of Economic Advisers attempts the unenviable task of defending the Administration's proposed teacher bailout plan.
Ms. Romer is by all accounts a well-educated and well-respected economist. Even when 'Puter doesn't agree with Ms. Romer, she generally puts forth a valid argument. That's why 'Puter was astonished at the hackneyed, vacuous, meritless defense Ms. Romer puts forth.
Ms. Romer makes several arguments, none of which make sense to the benighted 'Puter. Perhaps if 'Puter had spent all night sucking down mescaline and Manhattans at the Leaping Peacock, it would all make sense. Unfortunately for 'Puter, Czar will not let him drink before 5:30 p.m. Greenwich Mean Time, except on alternating St. Swiven's Days. So, we're stuck with 'Puter's first take on Ms. Romer's arguments: weak.
Let's walk through some of Ms. Romer's howlers.
Such layoffs are terrible for teachers, for communities and, most important, for students.
Translation: "It's for the children." Lame. Even the teachers unions no longer think they can get away with this one. Please, Ms. Romer, never, ever use the preceding sentence again, especially as a lead in. It makes reasonable people doubt your good faith and capacity to think clearly.
There are no hiring or setup costs. The teachers are there, eager to stay in their classrooms.
Ah. 'Puter sees. We should spend billions to keep teachers in the classrooms because it's easier and cheaper than actually creating private sector jobs. Sure, Ms. Romer. doing something by fiat is much easier. Also, 'Puter appreciates your tacit admission that the government can't create private sector jobs, all it can do is throw good money after bad sustaining government employment. Sweet.
Furthermore, by preventing layoffs, we would save on unemployment insurance payments, food stamps and COBRA subsidies for health insurance, and we would maintain tax revenue. Accounting for these savings, the actual cost of the program is likely to be 20 to 40 percent below the sticker price — perhaps even lower when one considers the spillover effects of maintaining employment.
A bright economist such as Ms. Romer cannot possibly believe this. This is like 'Puter trying to convince Mrs. 'Puter that he had to spend $1,500 on a new 50″ LED television because it was on sale, even though 'Puter knows he doesn't have the money to pay for it. Let's assume for the moment Ms. Romer is correct on her savings issue. We're still shoveling 60-80% of the allocated funds down the rat hole. Ms. Romer cites not one statistic showing that more teachers (read lower teacher to student ratio) equals better education. Nor does she claim that the remaining teachers will be ineffective in instructing the current number of students.
The American economy has made tremendous progress over the past year. We have gone from job losses of three-quarters of a million per month, in the first months of 2009, to now adding jobs — nearly 300,000 in April. But we still have a very long way to go. Overall employment is down almost 8 million from its December 2007 peak. And for the millions of Americans who are struggling to make ends meet without a paycheck, this is still an economic crisis.
The Giant Technicolor Obama Stimulus Plan hasn't worked. We're still down 8 million jobs, even after spending hundreds of billions of borrowed dollars in a vain attempt to solve the problem. What's the answer? Apparently, to the Obama Administration, the answer is simple. Double down! We have to spend money to make money! Look, Ms. Romer, this may sell among the drunken blackjack players in Vegas, but 'Puter would like some evidence to support your claims. According to an early 2010 piece on NPR (that noted voice of the Vast Right Wing Conspiracy), under the Stimulus Plan, Americans lost 3 million additional jobs. 'Puter guesses if we use that logic ($787 billion/3 million lost jobs = $262,333.33 per lost job), then spending $23 billion to save 400,000 teachers' jobs ($57,500 per job) isn't such a bad deal, ceteris paribus.**
Yes, we all understand that our budget deficit is too large. Profligate policies of the past and rising entitlement spending have created a mess that simply must be dealt with as we return to full employment. But it would be penny-wise and pound-foolish to deal with that issue by failing to allot essential spending on teachers at a time when the unemployment rate is still near 10 percent.
'Puter was waiting for this game-changing argument. ZOMG! IT'S ALL BUSHITLER'S FAULT!!1!one!! The Left's Bush hatred never gets old. Get over it guys. President Obama's been in charge for nearly 18 months now. It's all on him.
The right way to deal with a budget problem that was years in the making is by formulating a credible plan to reduce the deficit over time and as the economy is able to withstand the necessary fiscal belt-tightening. That is what President Obama is doing.
This is a variant on the shady used car dealer sales pitch. 'Puter: "How much is that car?" Dealer: "Let's talk about how much each month you can afford to spend." In essence, 'Puter can't afford the car, but the dealer can make it appear he can by putting him into a loan whose monthly payments he can afford, but which ultimately leaves him underwater on the deal. Much like Wimpy's "I'll gladly pay you Tuesday for a hamburger today." Guess what? When Tuesday gets here, Wimpy's nowhere to be found.
Now that 'Puter's done his take down, here's a few of 'Puter's thoughts on the topic.
1. What's so special about teachers? Why not bail out construction workers? Heck, 'Puter's roads Upstate need a heck of a lot more work than his schools. Why not doctors or secretaries? How about fast-food workers? Maybe it's because none of those other jobs have a huge union ATM that pays out just for the Democrats.
2. Did Ms. Romer ever consider that the schools may be at overcapacity? That is, there are more than enough teachers available for the number of kids currently in attendance. This is similar to the GM/Chrysler bailout. Rather than force the companies to shed dead weight and become more efficient, government intervention allowed the automakers to continue unproductive behaviors.
3. Rather than throwing billions of dollars at the schools, how about lifting expensive federal mandates? It costs the taxpayers nothing and frees up local school districts to spend existing revenues where they see fit. Maybe Ms. Romer didn't consider that possibility because local control and lower taxes are anathema to the Left.
4. Why not lift the executive order permitting public sector unionization? Labor costs, driven ever-upward by gold-plate union contracts, are school districts' single largest cost. Level the playing field between unions, taxpayers and employers, and watch the savings roll in. Gov. Chris Christie's a shining example of calling teachers' unions' bluffs. Read and watch this and see what 'Puter means.
Wow. This took a lot more time and effort than 'Puter intended, but it's an important exercise. If we don't call out falsehoods, obfuscation and general B.S. when we see it, we'll never get a better government. And without a significantly improved government, we're going to be Greece.
*'Puter refuses to use the stupid, gender-neutral term "Chair." Why not use "divan" or "chiffarobe" instead? Stupid politically correct language police.
**See? 'Puter can use economist speak as well!

Always right, unless he isn't, the infallible Ghettoputer F. X. Gormogons claims to be an in-law of the Volgi, although no one really believes this.
'Puter carefully follows economic and financial trends, legal affairs, and serves as the Gormogons' financial and legal advisor. He successfully defended us against a lawsuit from a liquor distributor worth hundreds of thousands of dollars in unpaid deliveries of bootleg shandies.
The Geep has an IQ so high it is untestable and attempts to measure it have resulted in dangerously unstable results as well as injuries to researchers. Coincidentally, he publishes intelligence tests as a side gig.
His sarcasm is so highly developed it borders on the psychic, and he is often able to insult a person even before meeting them. 'Puter enjoys hunting small game with 000 slugs and punt guns, correcting homilies in real time at Mass, and undermining unions. 'Puter likes to wear a hockey mask and carry an axe into public campgrounds, where he bursts into people's tents and screams. As you might expect, he has been shot several times but remains completely undeterred.
He assures us that his obsessive fawning over news stories involving women teachers sleeping with young students is not Freudian in any way, although he admits something similar once happened to him. Uniquely, 'Puter is unable to speak, read, or write Russian, but he is able to sing it fluently.
Geep joined the order in the mid-1980s. He arrived at the Castle door with dozens of steamer trunks and an inarticulate hissing creature of astonishingly low intelligence he calls "Sleestak." Ghettoputer appears to make his wishes known to Sleestak, although no one is sure whether this is the result of complex sign language, expert body posture reading, or simply beating Sleestak with a rubber mallet.
'Puter suggests the Czar suck it.