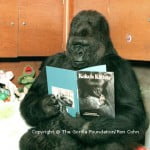 You probably noticed a little book carousel that appears to the left. What? You haven't clicked on it? What?
Go ahead. No, it doesn't force you to buy anything. It simply takes you to a listing of our favorite books, films, music, quick reviews of various titles and topics, and of course way more of that Gormogon humor you all love so much.
Visit the Friends of the Gormogons library to see what's there. You not only read some of these great folks already, you probably are some of them!
Did you know Luc Besson tends to wander into our Castle from time to time, especially when he forgets his way home from the Leaping Peacock? He very cleverly includes something he saw in our Castle in every one of his films. Check out the list, watch them all, and see if you can spot the Gormogon reference. Hint: there may be more than one.
Check out the Mandarin's Book Club to see what he is reading when he isn't polarizing the thermosphere with ionized plasma.
Visit the Czar's library to see what blood-stained literature is on the shelf of yours truly.
See GorT's Technical Repository and be amazed, and delighted, by what lurks within sector 42 49 54 45 20 4d 45 of his brain unit.
You can find everything from History, to Politics, to Lesbian Vampires (really!) there. More is being added all the time. Please keep returning!
And yeah…if you see something good, buy the damn thing. You can trust us. We already run most of your life.

Божію Поспѣшествующею Милостію Мы, Дима Грозный Императоръ и Самодержецъ Всероссiйскiй, цѣсарь Московскiй. The Czar was born in the steppes of Russia in 1267, and was cheated out of total control of all Russia upon the death of Boris Mikhailovich, who replaced Alexander Yaroslav Nevsky in 1263. However, in 1283, our Czar was passed over due to a clerical error and the rule of all Russia went to his second cousin Daniil (Даниил Александрович), whom Czar still resents. As a half-hearted apology, the Czar was awarded control over Muscovy, inconveniently located 5,000 miles away just outside Chicago. He now spends his time seething about this and writing about other stuff that bothers him.