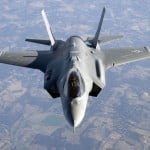 Dr. J writes in:
GE/Rolls Royce had an advertisement on the radio asking me to call my congressman to ask him to support funding their jet engine program for the F-35. After my so-called Blue-dog Democrat voted for TARP, the Omnibus Spending Bill (after voting against it), Cap and Trade and Obama-care despite my phone calls to his New Atlantis office, I would feel like a total tool calling requesting the funding of a specific engine. What are your thoughts on the GE/RR engine compared to the Pratt & Whitney Engine.
The Volgi, GorT, and very likely the Mandarin will have their own opinions given their respective histories.
Actually, to the Czar, this is more interesting than some readers might first think. The Pratt & Whitney F135 engine is dueling with the General Electric F136 engine to see which one gets selected for the F-35 Lightning II jet fighter. And the battle between the two aircraft engine giants is getting nasty and way colorful.
Here it is. The PW F135 is actually made up of some fairly well-established technologies (and much of it is in use on the F-22 with no real problems). The design advantage here is that it uses far fewer parts than other conventional afterburner-type engines; the real design innovation is the computerized monitoring system that will allow maintenance crews on the ground to get real-time data about the engine and identify problems right away. In some cases, we predict, the flight crew can get replacement parts ready for tired equipment before the part actually fails, and swap out the critical component quickly and easily upon landing…in order to get the plane back into the air in minutes. That is fairly cool.
The GE F136 is an engine competing for the same job. It is a tiny bit less powerful, and is a bit smaller than the F135 design. It, too, uses fairly familiar technology; however, it uses a design called a twin-spool turbolift that uses less fuel. A smaller, lighter engine with less fuel consumption means the plane can go much longer distances with the same bag of gas. In military terms, that's called a greater combat radius. Very cool.
So you might think this is about power versus economy, right? Well, not really. The problem began when the Pentagon decided to go with the PW F135 engine because it works well on the F-22 and that means fewer crews to retrain, greater availability of parts, and therefore less expensive to own and operate.
GE disagreed with the decision, and opted to promote their design as an "alternative" design. After all, they spent millions on their design and development, and would rather not write that off as a loss. So they began to attack their competitor, suggesting that the PW engine is already way over budget and, you know, not as good. PW says they are on budget (although this is not known for certain), and the F135 design works better.
Further, PW says that GE will build the engines in England, and not by American workers (which GE has not exactly denied). GE countered that PW would become a virtual monopoly, since they are already building most of America's military aircraft engines. PW fired back a list of so-called single suppliers for other military components, demonstrating that there is a difference between being a sole source and a monopoly. You lost; get over it.
Then a Pentagon memo got out that expected the GE F136 engine might cost $3 billion more to develop, making it on par with the PW engine costs. In response, GE offered to sell the engines at a fixed price: if the costs go over, the taxpayer assumes no further hit if the F136 is selected.
Except that GE got bipartisan Congressional funding to research the GE engine as an "alternate" on the taxpayer dime under the pretense that the fighter could use, you know, maybe an "extra" engine. The sponsors of the funding effort were, by no coincidence, all from Ohio. And if the engine gets purchased at a fixed price, the GAO concluded, that could save money.
PW quickly launched a bitter campaign to kill any further Congressional funding for the GE design, claiming it is an engine no one wants, asked for, or needs. The Pentagon agrees with PW, and even Secretary Gates recommends cancellation. GE is firing back with a please-fund-us-more campaign of its own—which is where Dr. J's letter joins us.
So there we are. One hopes this is the worst battle the F-35 ever sees, although it is a pretty publicly wild one by defense contracting standards.
The Czar's thought? GE is a major donor to the Democratic party, and by and large, the pro-GE support has been nearly all Democratic (the President appears to have no iron in this fire; this has all been Congress). Basically, thanks to pork barrel funding, GE is being paid with taxpayer money to do a design development job that GE should be paying for as part of its own costs. The Czar thinks that PW did their job, designed a great engine, and whatever the merits of the F136 might be, the F135 won out. We should not be paying billions to GE for an engine that will likely see little service either way. Meanwhile, we are crippling our F-22 force.
An interesting side note. Readers will spot that Dr. J refers to a "GE/Rolls Royce" partnership. In fact, Rolls Royce is actually involved in both engine designs: both GE and PW are using the same engine lift system made by Rolls Royce. This allows the plane, with either engine, to handle very short take offs and near-vertical landings. However, Rolls Royce has elected to build the VSTOL lift systems in Indiana. GE smartly and quickly referred to their design as the GE/RR F136, and thereby won Indiana Democratic Senator Evan Bayh 's support for the funding…even though PW/RR would also build the lift systems in the same plant. But Bayh failed to realize he wins either way. Nuts, eh? Hey, Bayh: read the fine print next time.

Божію Поспѣшествующею Милостію Мы, Дима Грозный Императоръ и Самодержецъ Всероссiйскiй, цѣсарь Московскiй. The Czar was born in the steppes of Russia in 1267, and was cheated out of total control of all Russia upon the death of Boris Mikhailovich, who replaced Alexander Yaroslav Nevsky in 1263. However, in 1283, our Czar was passed over due to a clerical error and the rule of all Russia went to his second cousin Daniil (Даниил Александрович), whom Czar still resents. As a half-hearted apology, the Czar was awarded control over Muscovy, inconveniently located 5,000 miles away just outside Chicago. He now spends his time seething about this and writing about other stuff that bothers him.