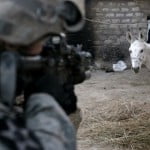 After seeing the movie Shrek Forever After this weekend your Mandarin's first thought when reading the Jerusalem Post headline "Donkey Detonated on Gaza Border," was that their movie reviewer also saw the film.
But in reality it turns out that this was a headline for a story about an actual exploding donkey. According to the story, a small Sryian-backed terrorist group in Gaza loaded 200 kilograms of dynamite onto a cart pulled by the late donkey. They then sent the donkey down the road and detonated his explosive payload 60 meters from the concrete security barrier that separates Gaza from Israel. The Israeli military confirmed that the blast had occurred and that only casualty was the donkey.
I would normally say that these terrorists were a bunch of jackasses, but in deference to the slain donkey and his family, let's just say that jackass would not be the appropriate term. Rather, let's call them by the more appropriate and less offensive to donkeys term cock-sucking spawns of hell. Although I'm sure that I'll be getting hate mail from various members of the poultry industry after using that term.
Well, it looks like the Israeli military will now need to step up their surveillance efforts and start checking out everyone's ass. And upon half-reading about these new surveillance efforts in some poorly written newspaper article I'm sure that some feminist group's dimwitted spokeswoman will vehemently protest this close inspection of their asses and decry the violation of their human rights and how they are not to be objectified and treated as sexual playthings.
But then addressing the inability of the press to write a coherent article, and the low level of reading comprehension displayed by the fine products of union run schools is another post for another day…and that day may be coming sooner than you thought.

The Mandarin, whose real name is 吏恆, joined the order in 1309, and introduced the Gormogons into England during the 18th Century.
The Mandarin enjoys spending time with his pet manticore, Βάρἰκος, or Barry (who can be found in the Bestiary). When not in the Castle…well, frankly, nobody is quite sure where he goes.
The Mandarin popularized the fine art of "gut booting," by which he delivers a powerful kick to the stomach of anyone that annoys him. Although nearly universal today, the act of gut booting or threatening someone or something with a gut boot is solely due to him.