Another Way for Dork Nerds to Waste Time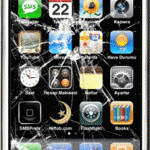 The oddly-still-in-business PCWorld has an…interesting online article the Czar found on how to install the Android OS on your iPhone.
Apparently, it takes 32-bit Linux system (or virtual Linux machine), a bunch of uncompiled utilities available on the web, some firmware for the iPhone, and something called tarballs, which is not the sort of thing you go around telling people you have. And about a dozen hours to complete 25 steps like "Extract utils/oibc, utils/loadibec, and prebuilt/openiboot.img3 from the prebuilt tarball into your 'idroid' folder."
If you can do these things, you can wind up with an iPhone that boots up and offers you a choice: an iPhone with a lot of its original programming hacked up (and which Apple can no longer support), or a Droid interface…that does not support critical apps like power management, runs painfully slow, and sucks out the iPhone's battery in under an hour.
Here is the truth of it, dorks. Nobody wants to do this outside of your basement.
Nearly all iPhone users like what they have and have few if any real complaints about their device. Or AT&T's hit-or-miss service. They are beautiful machines that work as advertised.
But if you like the Droid phones so much, the Czar has a simpler suggestion. Go get one. Trade in your iPhones, lose the lousy AT&T service you are spot-welded to, and pay about $50 for a top of the line Droid. By the way, if you elect to stay with AT&T, you will find the Droid works better with AT&T than many iPhones do.
Or you can choose to have a phone that is either a crippled iPhone or a uselessly incomplete Droid.
Yeah, that was worth the time.

Божію Поспѣшествующею Милостію Мы, Дима Грозный Императоръ и Самодержецъ Всероссiйскiй, цѣсарь Московскiй. The Czar was born in the steppes of Russia in 1267, and was cheated out of total control of all Russia upon the death of Boris Mikhailovich, who replaced Alexander Yaroslav Nevsky in 1263. However, in 1283, our Czar was passed over due to a clerical error and the rule of all Russia went to his second cousin Daniil (Даниил Александрович), whom Czar still resents. As a half-hearted apology, the Czar was awarded control over Muscovy, inconveniently located 5,000 miles away just outside Chicago. He now spends his time seething about this and writing about other stuff that bothers him.